Celebrating Student Success: The Paul and Barbara Frison Scholars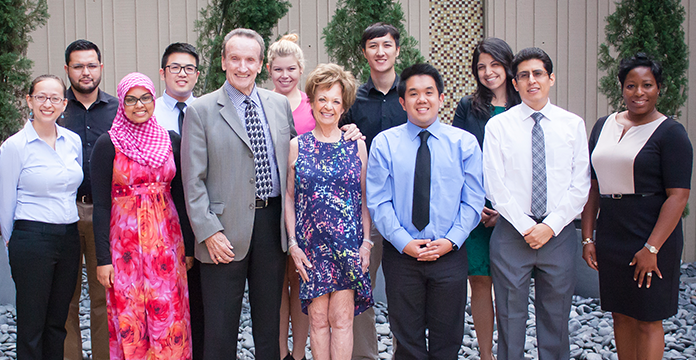 "Thank you all for coming today," Paul Frison addressed the long table at Eric's Restaurant in the UH Hilton. "It means a great deal to us." It is rare that a group of busy students and professionals, some not having been on campus since graduation, are all able to attend a midweek lunch at their alma mater. However, every Coog who has benefited from the Paul and Barbara Frison Scholarship over the years seized the opportunity to come to their UH home and visit with their benefactors, celebrating generosity, student success and the Cougar ties that bind.
"It is a thrill for us," said Mrs. Frison. "It gives us pride that we are able to help out, especially since most of the students worked and went to school at the same time." Their hard work has been rewarded, not only with the Frison scholarship, but in the professional world.
A luminary in technology-based business and founder of the Houston Technology Center, which serves as a business incubator and accelerator for entrepreneurs, Mr. Frison has been a board member at the University of Houston's College of Technology since 2000. He brought up the idea of establishing a scholarship to Mrs. Frison, who is also his high school sweetheart, a few years after joining the board, and the couple agreed that helping young people finish their education was an essential part of their mission.
The first recipient, Gloriella Gonzalez ('06) has had a flourishing career at Chevron ever since graduation. "The Frisons not only provided me with the scholarship," she recalled, "but also allowed me to intern for the Houston Technology Center." She added that Mr. Frison recommended her as Marketing Chair for the Houston chapter of Women In Technology International (WITI), and she served in that capacity for several years after graduating.
Other recipients report similar experiences, citing that the scholarship led to connections for their first internships and jobs. Many were grateful to have graduated debt-free, and others stated that they would have had to take time off to earn money for tuition without the scholarship. The Frisons' generosity has even inspired many of them to give back to UH in the future to help afford the same opportunities to other students.
Originally from California, Mr. and Mrs. Frison have made their home in Houston since 1975, although Mr. Frison's career has taken them all over the country and the world. Mrs. Frison recalls keeping an overnight bag packed at all times in case there was a sudden opportunity to accompany him on a business trip. Some of their extraordinary adventures include Hollywood acting (Mr. Frison decided to give it up at age 14 to have a "real" childhood) and playing competitive tennis (that was Mrs. Frison). Now, they focus on spending time as much time as possible with their children and grandchildren — who can catch one of their grandfather's classic movies on TV now and then.
The dedicated Coogs who gathered at Eric's Restaurant have, in a way, also become a part of the Frison family. "I have pictures of the scholarship recipients in my house," said Mrs. Frison, "and I feel good whenever I look at them." As the Frisons' generosity sets students on track for success in their technological careers, it also gives them the foundation for their own life adventures — the chatter around the table includes new hobbies, babies on the way, work promotions, marriages and travel plans. With new recipients every year, it won't be long before the Frison scholars need to reserve a bigger lunch table.