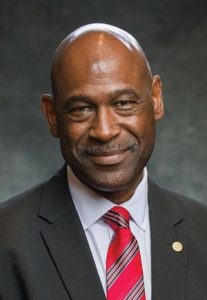 Welcome to the spring edition of Alumline — your source of information and inspiration for all things involving University of Houston alumni.
Speaking of inspiration — the collection of enthusiastic Cougars pictured below are members of the University of Houston Alumni Association Foundation (UHAAF) Board, an independent organization that partners closely with the University to provide expertise, advice and outreach. Comprised of 22 education, nonprofit and business leaders, these accomplished men and women network and advocate on behalf of the 293,000 members of the University of Houston alumni family. As established leaders in the community, each member brings experience and passion to a host of committees charged with promoting positive engagement with our alma mater.
The UHAAF provides oversight of constituent Alumni Associations, scholarships, life membership, affinity and Corporate Partnerships as well as Legislative Advocacy. The UHAAF works on your behalf through exciting events and volunteering on campus as well as scholarship promotion and fundraising for deserving students.
If you want to learn more about the people who serve on the UHAAF board, visit houstonalumni.com.
True We'll Ever Be!


Brent Chinn (FS '82)
President, University of Houston Association Foundation Board