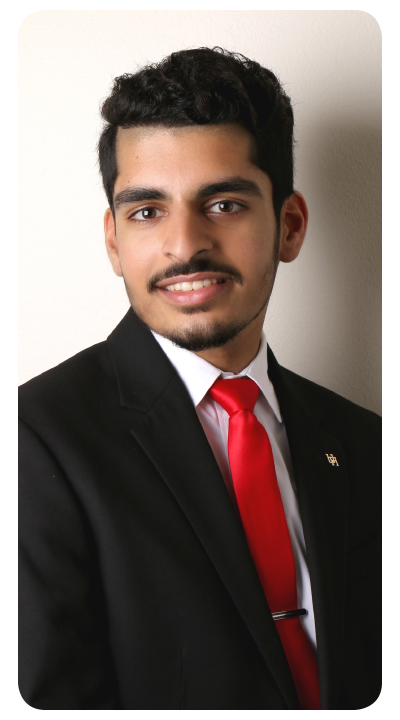 Joshua Varghese ('20)
Joshua Varghese ('20) is a third-year University of Houston Cougar studying biology, with minors in mathematics and psychology. He enjoys tutoring other students in physics. He is a Student Ambassador for University of Houston Division of Advancement, and he hopes to become a doctor because of his strong desire to be an inspiration in the lives of others.


Winning no matter what!
1. What are your goals after graduation? Ever since I was in middle school, I knew I wanted to pursue a career in medicine. Throughout high school and my first couple of years of college, I was able to participate in hands-on hospital experiences via volunteering, and this further manifested my goal of becoming a doctor.
2. What inspires you? My parents are my biggest inspiration. They moved to America from India a few years before I was born, seeking the land of opportunity, and finally settling in Dallas, Texas where I was raised. While growing up, they always pushed me to be the best at everything I do.
3. What does being a student leader mean to you? Being a student leader comes with a lot of responsibility. Students actually look to you for advice, motivation and assistance. For example, in my free time, I am a physics tutor, teaching physics classes every week with a total of about 100 students. I help students accomplish their dreams. That is more than enough motivation for me to continue being a leader, role model and mentor around campus every single day.
4. What's the best book you've ever read and why? In my 10th grade English class in high school I had to read "To Kill a Mockingbird" by Harper Lee. It explored how diversity broke apart a community, but sympathy, compassion and acceptance can mend a broken people.
5. What makes UH's culture unique? How do we protect it? The University of Houston is unique because of its pride. I have never visited or attended another university that was this proud of its athletics, history and leadership. Whether it be our yearly "Cat's Back" in the fall, our yearly Frontier Fiesta in the spring, our chants at athletic events or even something as simple as wearing a splash of red on Fridays, our students are proud to be Cougars, and we want the world to know it.
6. If you could choose one song to play every time you walked into a room for the rest of your life, what would it be? A song I would want to be played every time I enter a room is "All I Do Is Win" by DJ Khaled because this song tells me that I am capable of doing anything if I put my mind to it.