The Real Impact
Each year, members of the UH community come together and give back to the University with a shared desire to educate current and future generations of students. Their generosity provides real opportunities and experiences for UH students like Karla Herrera.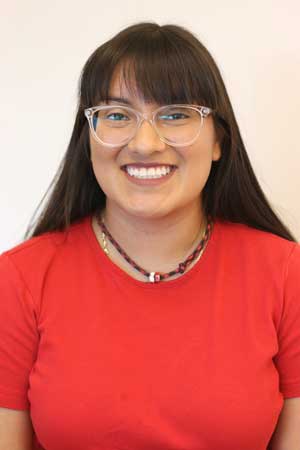 I come from a rather large family. I am the oldest of five. When I was deciding on the right college for me, I had two major concerns. I wanted to see my younger siblings grow up and receive the same opportunities that I had in terms of a good education. The University of Houston seemed to be the best solution, allowing me to be there for my family and receive an excellent education at the same time. I was also able to receive an academic scholarship, which greatly eased my parents' financial concerns. The icing on the cake came when I learned about the UHin4 program. By participating in the UHin4 program, I am able to graduate in four years, with a fixed tuition rate.
Even though I still have to supplement the cost of my education, both the scholarship and the UHin4 program reduce my anxiety about the cost of college and allow me to concentrate on my studies and participate in extracurricular activities. Since my freshman year, I have been a member of the Spirit of Houston band ensemble. I attend almost every football game and support my team while making lifelong friends. This experience has been a true blessing, especially last year during UH's banner football season.
I consider my time at UH to be life-changing. I am proud to be a Cougar and know I have the support of the entire UH community. I will never forget when I was a freshman; President Khator came to my class and explained how we could contact her if we ever considered not completing our degree. I could tell that her plea was sincere and genuine. That is when I knew that I had made the right decision to attend UH. I am also well aware that my experiences here are greatly enhanced by the countless friends and alumni who give back to the University each year.
You have impacted my life, and for that alone, I am forever grateful.
Go Coogs!
Karla Herrera ('18)