Philanthropy at its Best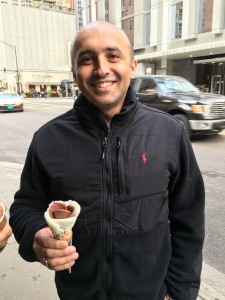 The spirit of philanthropy is alive and well at the University of Houston.  Learn how one man's love of learning came to benefit up-and-coming students at the University of Houston.
The Arturo Huerta '92 Memorial Scholarship will be awarded in Fall 2018 for distribution in the 2018-2019 academic year based on the quality of an essay submitted with the application and the following criteria:
Scholarship student is a sophomore or junior at the University of Houston who has a cumulative 2.7 GPA or higher.
Scholarship student has demonstrated financial need based on Federal or State methodology.
If you would like to give to the Arturo Huerta '92 Memorial Scholarship, please visit https://bit.ly/2uInMpE.
Arturo Huerta was a brilliant man, born in Chicago, IL, to immigrant parents from Mexico.  Though no one in his family had a college degree before him, Arturo understood that an education would lead to bigger and better opportunities in life.  Arturo's pursuit of higher education opened doors of opportunity not just for himself but also for his younger brothers and sister who, with Art's encouragement, followed his example.
In high school, Art lettered in track and field, and completed the Houston Marathon.  He was naturally smart and tested well.  Art could have gone to almost any college but he chose the University of Houston. While attending UH, Art was a member of Pi Kappa Alpha from 1988-1992.  During college, he worked at fine dining establishments, first as a waiter and bartender, and later as a manager.  In 1992, Art obtained a B.S. in hotel and restaurant management.
By 1996, Art transitioned into the financial sector working as a project manager for an investment management firm.  While working full-time, Art attended the University of Houston Executive MBA program and earned a Master's in Business Administration. In 1998, Art relocated to New York City and worked in global capital management consulting.  Art traveled to the financial centers of the world and achieved an inspiring level of success in his career.
Arturo's mental fortitude served him well in his career but the true test came when he was diagnosed with cancer at the age of thirty.  By the age of 34, Art had bravely battled cancer – twice.  He returned to Houston, with his wife and daughter, for treatment at MD Anderson Cancer Center and became cancer-free. Following his battles with cancer, Arturo continued to excel in his career.  He went on to manage business initiatives in banking and capital markets, and create global processes for a leading oil company.  However, Art's most rewarding job was being a dad to his daughter.
Arturo passed away on May 18, 2017 at the age of 46.