A Leader In Her Own Right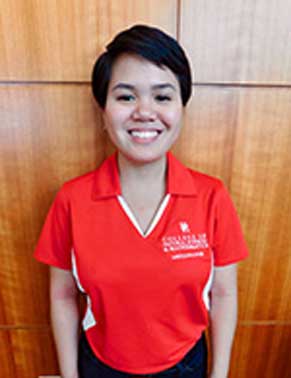 Q: What prompted your decision to attend UH?
A: I attended the Honors College Open House at UH where I was introduced to the Bonner Leaders Program. I was immediately taken in by the fact that you could actually make a difference now. I also appreciated the diversity of UH, which puts everything into perspective. You have the luxury of communicating with people from different cultures learning from their life experiences. This realization makes you feel like you are one stroke in a beautiful masterpiece.
Q. How have you been impacted by philanthropy?
A: As an incoming freshman to the Bonner Leaders Program, I received the Provost Service Learning Scholarship. This was a huge blessing at the time because my family was going through some hard times financially. Receiving this scholarship made my decision to attend UH much easier.
Q: What opportunities have you been exposed to during your time in the Bonner Leaders Program?
A: As a Bonner Leader, I have been able to participate in the WISE (Writing to Inspire Successful Education) program where we tutor students in schools located in lower income communities. I am currently in-charge of evaluating the effectiveness of the program through data research. I am happy to report that school test scores have dramatically increased as a result of our tutoring efforts.
Q: You also serve as a NSM (College of Natural Science & Mathematics) Ambassador. What is your role in this capacity?
A: As a NSM Ambassador, I am involved in student recruitment where we discuss how the NSM College can play a pivotal role in helping students receive a quality education in an exciting field. I really enjoy getting to know others and learning about their hopes and dreams. I also relay feedback to the advisers regarding my experiences in the advisement process. Lastly, I help run many alumni events as a student leader and sometimes as a photographer.
Q: What do you consider the most valuable aspect of your UH experience?
A: I consider my involvement in service through the Bonner Leaders Program an invaluable aspect of my UH experience. In the Bonner Leaders Program, I am empowered by the success of my peers and am grateful for having what I consider to be a second family. I feel no matter what I do, I will always have a supportive network. I truly believe our role in this world is to serve others. The world would be a much better place if everyone embraced this idea.
(Michelle Tran is a sophomore at UH and is majoring in computer science and math. She hopes one day to work in the Energy/Environmental sector and continue her devotion to service).