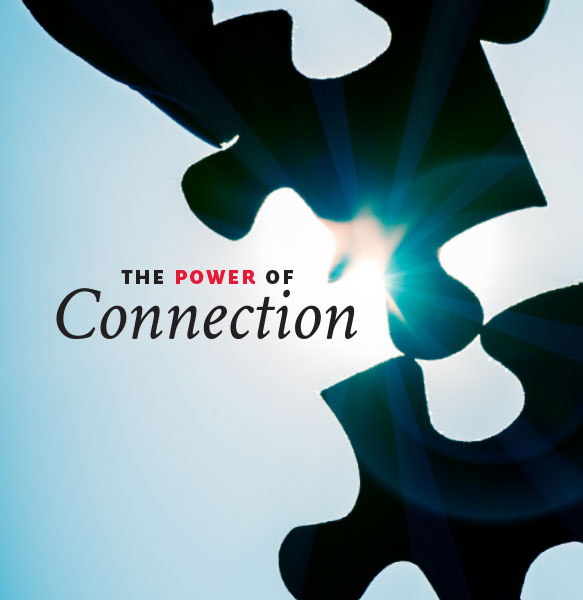 In the following section, you will encounter several types of powerful connections that were initiated at the University of Houston and continue to this day. A testament to the importance UH places on meaningful relationships, these three stories, which span 40 years, demonstrate the loyalty that Cougars are known for.
---
Jaime and Chris White, together nearly 25 years and proud parents to two amazing kids; Audray and James, have been friends for over 35 years; and Odis and Bill, whose company has navigated more than 40 years in the engineering industry, will inspire both those just starting out at UH, and reinforce Cougars who already share significant connections with their alma mater and the UH community. Read about their powerful connections.

Chris White ('98) & Jaime McMinn ('98)
What started out as an awkward beginning in a political science course at the University of Houston led to a 25-year relationship between Chris White ('98) and Jaime McMinn ('98). "At the beginning of class, the instructor informed both Jamie and I that we had the wrong book, and told us how to complete the required readings in that edition until we could get the right one," says Chris. "I have to say that Jaime is the only good thing that came from a political science course," jokes Chris. "I thought he was cute right away," Jaime says, however: "I was really very concerned that I didn't have the correct version of the book!"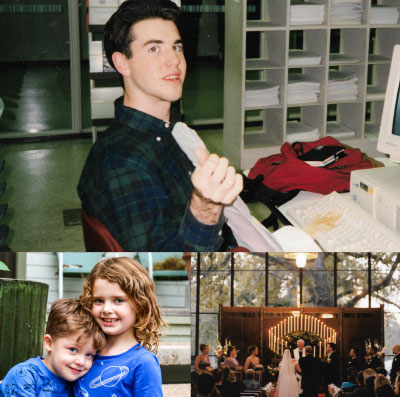 Chris White and Jaime McMinn were initially on track to attend different schools. Chris was planning to go to Texas A&M, and Jaime, the first in her family to attend college, was supposed to attend Rice University. Due to a helpful guidance counselor and some other circumstances, Chris and Jaime found themselves accepted to UH's Honors College, and soon, Chris was walking Jaime to class. Both say that attending the Honors College, and taking in its cross-disciplinary curriculum, was a transformative experience.
Chris is proud to say that he graduated from the same school that his parents graduated from – he was a Legacy Scholar, meaning that he received a scholarship because his parents attended UH. "It was the largest scholarship I ever received, and it was a big reason why Jaime and I became Life Members. A personal goal is to endow one of those scholarships someday," muses Chris. There are even duplicate wedding photos; one where his parents got married at the UH A.D. Bruce Religion Center, and one from when he and Jaime got married in 1999 – at the same location.
"We were babies when we met," says Jaime, "But the growing up together is what matters."
"I feel that Jaime and I are literally a perfect match," says Chris. "Not to mention we have the two greatest kids in the world."
Today, Chris and Jaime stay actively engaged with their alma mater. Chris recruits Information Technology graduates for ExxonMobil – from Bauer College, the College of Natural Sciences and Mathematics, and the College of Technology. Jaime is Vice President of Talent Management at SEARCH Homeless Services.
"I stay involved in Athletics, through my career and by supporting the Alumni Association and the Honors College," adds Chris. When asked if it is more difficult for young people to make meaningful connections in the present day – because of social media and other factors – Chris said he didn't believe so. "Although the tools for making connections have changed, it's the shared experiences students are having that have not."
"I feel that Jaime and I are literally a perfect match," says Chris.
AUDRAY MCMILLIAN ('84) & JAMES HOLMES ('86)
Little did Audray McMillian know, that on a fateful day in Kilgore, Texas, a casual conversation would turn into a lifelong friendship. At the local track meet, Audray was going for the high jump — and was about to clear 6 feet, 11 inches, amazingly. He remembers; "I saw this guy coming across the field, and he came up to me and said, 'I hear you're going to UH, too… do you want to be roommates?'" Audray laughs at the memory — 38 years later, Audray McMillian and James Holmes are now the closest of friends. James credits their friendship to "honesty, trust and forgiveness." "You had that answer ready!" laughs Audray, who, in turn states that his definition of friendship is "agape love" – the unconditional love that the Bible speaks of.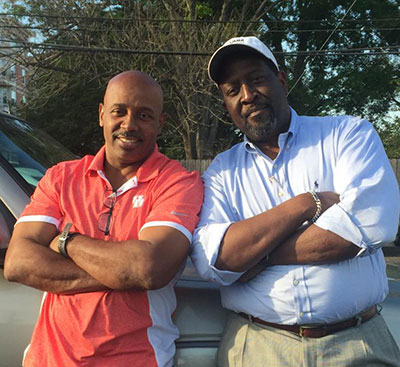 After growing up in small Texas towns, both Audray and James were impressed and somewhat intimidated by the five and six lane highways coming down I-45 from the airport. But the self-proclaimed "country" boys made a name for themselves in Houston as student-athletes, playing football for UH. After years of living together in Moody Towers, Audray and James moved just across the hall from each other in Bates Hall. Serious about their schoolwork and athletics, Audray and James attended classes and played football with the legendary Coach Bill Yeoman.
As they transitioned into life after UH, they remained connected. James would drive Audray 1,200 miles to training camp, where Audray played for the Minnesota Vikings. Even their love of golf happened on a road trip, heading to Houston from East Texas. James' father introduced Audray to golf – a sport they both have gotten better at over time. They are co-chairs of the UHCAA Golf Tournament, which has raised nearly $300,000 in scholarships and currently working on an endowment for the students at the University of Houston.
Would they have met if it hadn't been for the University of Houston? "No!" Audray and James proclaim emphatically. They recognize they are polar opposites as far as personalities go: Audray considers himself a "people person, an extrovert" while he describes James as "more reserved and thoughtful…a rule follower," – adding that, James was valedictorian of his graduating high school class.
Now, their families are close to one another –their wives, sorority sisters, and their children, like brothers and sisters. When James was awarded the Distinguished Service Award by UHAA in 2018, Audray, a prior honoree, presented it to him at the UHAA Annual Gala. Audray and James currently live only five minutes away from each other.
"I saw this guy coming across the field, and he came up to me and said, 'I hear you're going to UH, too … do you want to be roommates?'"

ODIS COBB ('71) & WILLIAM (BILL) FENDLEY ('71)
In a classic case of "opposites attracting," the business relationship between Odis Cobb ('71) and William (Bill) Fendley ('71) began: Odis is the "detailed" one while Bill has been described by his business partner as "people-oriented." That winning combination has led them on a journey since they first met at the University of Houston in 1968, to being part of a company that evolved through internal ownership transition to a current staff of more than 400 employees. Some of their expertise lies in construction management, hydraulics and hydrology, surveying and telecommunications. But that's just the tip of the iceberg. They have been told they are known as the "best kept secret in engineering" in the Houston area.
"We started our collaboration in college," recalls Bill. They would trade homework and independently comment on the other person's work, in essence, working as peer tutors. "When we owned CobbFendley, we had checks and balances within the company and conferred with each other on all business matters,"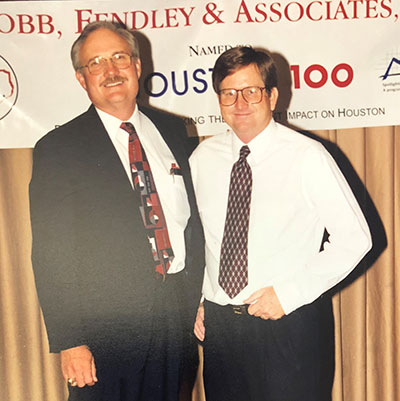 After working for the same company between 1972 and 1980, they gave notice in 1980 and decided to start their own business. They didn't see a paycheck for nine months (in addition to each putting a good chunk into the proverbial "kitty.") The lights had been turned off near the beginning, and there was no air conditioning, but soon after they landed their first big contract and never looked back. Soon they reached 35-40 employees, and CobbFendley was officially a mainstay in the Houston business world. Ten years ago they sold their stock in the company. While Bill is still employed and goes to the office on a regular basis, Odis is retired.
What has over 40 years in business together taught them? "Trust," they both replied. And as far as an authentic and powerful connection, the words that come to mind for Bill are "honesty, hard-work and helpfulness" – these are the attributes they try to look for in their employees and what they look for in new business partners for the firm.
"Engineering is about problem solving. Solve the problem. Fix the problem," says Bill. "UH taught me to have the confidence to solve a problem." Odis agrees that UH laid a wonderful foundation for his career. The diversity they encountered at UH translated to CobbFendley – the company employs about 40 percent of women engineers. Through trial and error, and a great deal of enthusiasm and hard work, their firm evolved into one of the largest locally owned engineering firms in the Houston area. They are both passionate about giving back and sit on several UH boards, including the Cullen College Dean's Advisory Board. "Even if you give $50 a year, give something back," says Odis. Their civil engineering major at UH established their friendship, but their business, CobbFendley, extended their friendship and provided a platform to become successful business partners for over three decades.