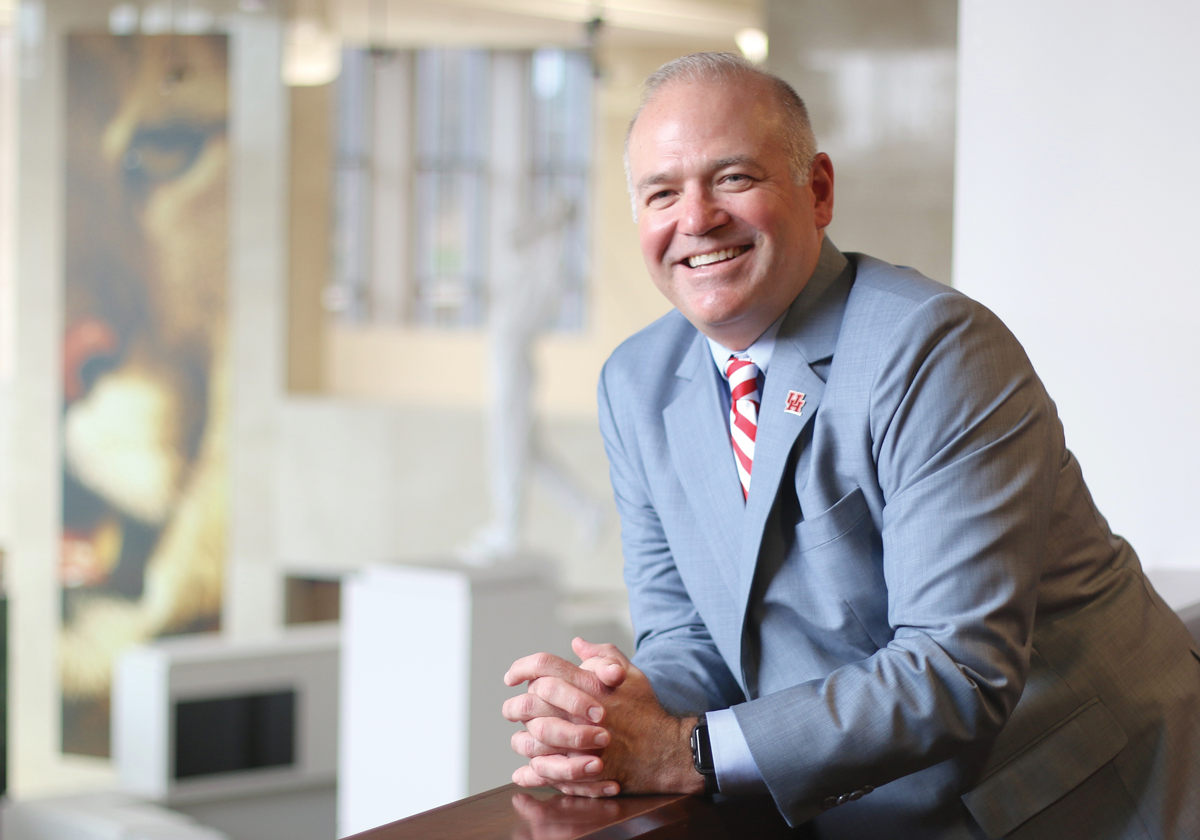 When you first meet Chris Pezman ('92, M.H.M. '97), vice president for intercollegiate athletics and director of athletics at the University of Houston, one can immediately tell he's familiar with his surroundings – and it suits him. The first alumnus to lead the nationally ranked UH Athletics program, Pezman is no stranger to the field. During his time at UH, Pezman lettered three seasons for the Cougars ('90- '92) and served as the team's captain.
When asked if he feels any added pressure, the former team captain responds, "You bet! There are a lot more expectations because I have 35 years of connections, friends, teammates, colleagues and associates in Houston. Friends have my number. They can call me if I slip up!" Joking aside, Pezman says: "I am honored to achieve this position, and I see it as a great responsibility since I am an alumnus." He is committed to taking UH Athletics to the next level, realizing the rules of the game have changed. "It's a crowded market for entertainment dollars today," he answers. "We are fighting to earn it and remain competitive. Even as the Astros win the World Series and the Rockets have the season they're having, we need to sustain the trajectory of our teams to bring the spectators in."
"I am honored to achieve this position, and I see it as a great responsibility since I am an alumnus."
Pezman admits that when he returned to Houston, he couldn't believe the transformation the campus had undergone. "Light rail, housing, investment in facilities, increased academic status – UH is moving forward at a rapid rate." He believes improvements, like the Guy V. Lewis Development Facility and Fertitta Center for basketball, the Darryl & Lori Schroeder Park for baseball and the Indoor Football Practice Facility will only increase the prestige of the UH Athletics program. "Whenever we have invested in facilities, we automatically have received a return on that investment. We have a great history of that, at UH."
Pezman credits UH for not only his professional success, but also as the place he met his wife-to-be. "We had hired Clyde Drexler and were making modifications to Hofheinz Pavilion when she walked into the office. She and I had our first date a month later and were married a year later!" The couple has been married 18 years and have three children, ranging in age from a sixth grader to a junior in high school: Sarah, Sydney, and Seth.
With Pezman's enthusiasm, pride for his alma mater and respect for the program, UH Athletics is aptly positioned to continue to ascend in the national rankings.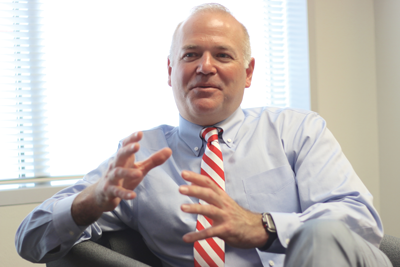 A Closer Look: Q&A with Chris Pezman
What were your favorite courses while at UH? Do you remember any favorite professors?
I graduated with a degree in economics and a minor in psychology. I learned a lot from an undergraduate political science professor, Ross Lence, Ph.D., who has since passed away. And at one point, I took an elective at the Hilton College of Hotel and Restaurant Management. I was going to transfer to Bauer College of Business but I stayed with hospitality because I was so impressed with the program. I loved taking Wine Appreciation, of course, and I had a great hospitality law professor — Stephen Barth, J.D.
What was your most memorable time on the field?
Definitely it would be the 1990 game where we beat Texas A&M in the Astrodome.
In a Houston Chronicle article, you were quoted as posting #HOME on social media in response to your being hired as the AD by the University of Houston. What about Houston, and more importantly, UH, feels like home to you?
Everything! At UH, I grew into connections, I was ingrained in the city around me. Houston and UH afforded me many incredible opportunities. University of California – Berkeley, where I worked before, was a very liberal environment. I mean, it was the epicenter of free speech in the sixties, but I think any other city would have a hard time capturing the entrepreneurial spirit of Houston. The Board of Regents and President Renu Khator have an aligned vision – and that creates a unique setting.
Do you have any interesting hobbies?
I ride motorcycles. In fact, I ride a 2005 Harley Davidson Road King, currently, that I purchased from another alumnus. That's how I learned the northern California landscape – on a bike. I take a road trip with several friends every year for four to five days at a time.
What is most impressive about UH Athletics?
The strength of our coaches and a great staff. Also, the improvement of our facilities. We appreciate what we've accomplished in the past but our strength is going to be determining what our goals are and making sure the staff and student-athletes are supported in those goals.