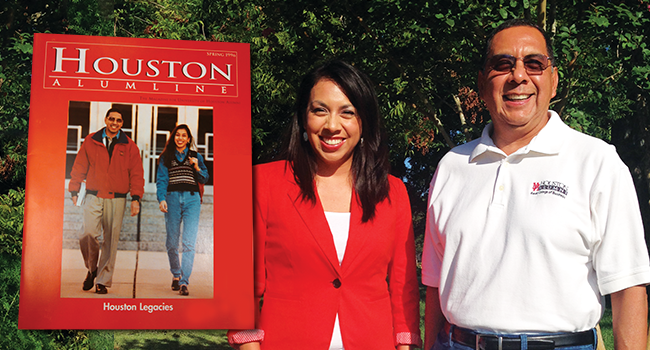 Legacy Scholarship recipient Annette (Garcia) Storemski's ('98) name may have changed since she graced the cover of the spring 1996 issue of the "Houston Alumline" magazine with her father, Leo Garcia ('78, M.B.A. '97), but her school spirit and commitment to UH alumni is as strong as ever. "Being a legacy scholarship recipient established a strong link with the campus and UH community that has continued throughout my life," she says. "My father's success made me want to follow in his footsteps, and key to that was receiving my education at UH." In the article, she was looking forward to becoming a UHAA Life Member — and true to form, she is now a Life Member, as well. "Being a Life Member has allowed me to stay in touch with fellow Coogs all over the country and back here in Houston when I lived elsewhere," she says, referring to her family's moves to Arizona and Virginia. Now, the Storemskis are back in Texas and look forward to visiting campus more often.
After graduating, Annette held marketing positions at Randall's corporate office and America West Airlines, which merged with U.S. Airways during her employment. In addition to academic lessons, activities on campus also prepared her for post-collegiate life. "By becoming involved in student organizations and activities, I saw firsthand how involvement can help achieve goals and make a difference on campus," she recalls. "During my time as a stay-at-home mom, I was president of our local moms' club for two years, and was the yearbook business manager for my children's school. Having the background from UH made it easy to shift from working full-time to becoming involved with my children's school activities, requiring me to pull from my background and business experience." With decreased financial worry, the Legacy Scholarship put those activities within reach for Annette, and she is as excited about passing on that opportunity to other Coogs as when the 1996 Alumline article was first published. "Just as I strived to become a Life Member when I was a student, I hope that everyone, whether current student or alumni, considers becoming a Life Member," she says. "There is no greater reward than helping future Cougars achieve their goals and seeing them succeed."
Life Members and Legacy Scholarships
There's more to being a UHAA Life Member than having your name on a plaque at Life Member Plaza on campus: life membership is an active commitment to the University and its past, present and future students. Life Members are pillars of the UH family whose dedication, combined with their generous annual support, continues to build a stronger University and makes a resounding declaration of Cougar pride.
Life Members are initiated through a $1,000 individual contribution or $1,500 for a joint two-person membership. Newly established Life Member contributions benefit the Legacy Scholarship endowed through UHAA, making scholarships available for the children and grandchildren of UH graduates who attend the University of Houston.
In addition to creating life-changing scholarships for students, Life Members enjoy benefits such as access to the Wellness & Recreation Center, library lending privileges, Skillport e-learning and UH bookstore discounts. Additionally, Life Members receive priority access to special events and communications. Alumni are a vital part of the UH community, both home and away, and Life Members are leading the charge in preserving UH traditions and creating positive change.
Life Member contributions can be made at uh.edu/giving.
For more information on UHAA Life Memberships, visit houstonalumni.com/lifemember.