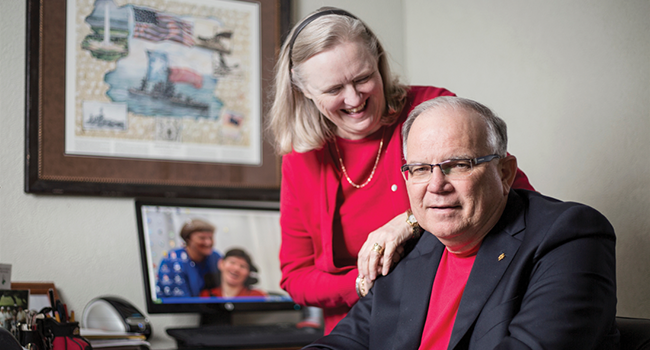 If you plan on meeting Larry ('72) and Kathy ('79) McClaugherty on campus for a football game, alumni event or even a midweek meeting, make sure to wear your Cougar red — because you want to be sure to match them. That kind of display is expected of a couple who "bleeds red," acting as long-time UHAA Life Members, scholarship funders and volunteers. They bring the same drive to their pharmacy consulting business, McClaugherty Consulting Services, which made it into the inaugural Cougar 100 in 2014. "We have to be in the box in our profession a little bit because we can't make mistakes," Larry explains. "Having said that, if you're going to improve and separate yourself from others, you have to push the envelope just a little bit." That push has defined their actions over the years, navigating both their evolving careers, unique family experience, writing a book and taking part in alumni activities. A lot to take on, but Larry and his wife Kathy sum it up to one vital term: flexibility.
"The University made a commitment to him, and now he makes a commitment in return."

Kathy McClaugherty ('79)
Learning the importance of flexibility started at UH for Larry. He and Kathy went to the same high school but didn't become a couple until they had both received their undergraduate degrees, him in pharmacy at UH and her at Corpus Christi College of Nursing. When Larry arrived at UH, the campus population was higher than their town. "That was a dramatic adjustment for me," he recalls. Larry received a football scholarship, and leapt at the chance to come to UH — "Who wouldn't want to play in the Astrodome?" — to play for legendary Coach Bill Yeoman. The University of Houston College of Pharmacy (UHCOP), however, was also a major draw, and became his main focus. Kathy relates that experience to why they give now: "The University made a commitment to him, and now he makes a commitment in return." UH-Clear Lake also made a commitment to her, admitting her to earn a bachelor's degree in health administration, in addition to her nursing credentials.
An unexpected turn arrived when their son, Neal, was born with Cerebral Palsy. Neal lived to the age of 27 as a non-verbal quadriplegic who communicated with a device similar to the one Stephen Hawking uses, and passed away in 2010. He inherited his parents' love of sports: he was among the youngest fans when Larry and Kathy attended Phi Slama Jama games in the 1980s, and was an integral supporter of the girls' basketball team at Friendswood High School, where he graduated in 2005. "The one thing that Neal really taught me was to live in the moment and to really incorporate the concept of flexibility," says Kathy, who became his full-time caretaker. "Our world got bigger because of Neal in ways I never could have imagined." Neal's impact on the people in his life can be seen in the book Kathy and Larry wrote together, "Neal: Champion." The book also contains chapters written by other friends and family members who were influenced by Neal, and while any reader can learn something from its pages, there are two specific audiences especially in mind: parents of disabled children and friends and family members of persons with disabilities. "It validates and verifies that you're not alone in the journey, that there are people who are there to support you and you can make it," Kathy says.
One way that Neal is memorialized is through the scholarships Larry and Kathy provide to University of Houston College of Pharmacy students. "Neal came to the first three ceremonies and handed the recipients their envelope," Larry recalls. "He didn't want to let go of it — he knew there was money in it! — he was laughing and holding on tight. He loved to be in the spotlight." Giving to UH is a priority for the McClaughertys; they've seen firsthand the difference it can make in a student's life. "Whatever you can do to decrease the burden and worry about school costs is important," Kathy explains. "Everyone has a different situation, and whatever you can do to foster and encourage that person to stay in school, to help someone stay in school financially — that's what it's about." The McClaughertys see it as not just an investment in a single person's future, but the future as a whole. "Giving to the future is important; you're a participant in it," Kathy continues. "You want those individuals coming up to be well-educated and well-rounded. We want our society to be richer and fuller because of that." Larry agrees: "Education is really the answer. People need to be educated. We just give a little bit. But if you get a lot of people to give a little bit, you get a lot."
"Education is really the answer. We just give a little bit. But if you get a lot of people to give a little bit, you get a lot."

Larry McClaugherty ('72)
Larry and Kathy take every opportunity to spread that message to other alumni. Kathy says that becoming a Life Member is a great way to start. "You become a member of a bigger body that then has a bigger impact," she explains. As for the future, Larry and Kathy are looking forward to "cleaning closets," both literal and metaphorical. It's still one day at a time; it still centers on flexibility. "Neal taught us that more than anything," Larry explains. In turn, he teaches that to his employees, who are often young and champing at the bit to begin their careers. "I tell them, it's not a sprint. It's a marathon." With the support, mentorship and example set by the McClaughertys, Cougars certainly have a great start.
Alumni Participation Keeps UH Competitive
We are proud to have more than 13 percent of our alumni as donors!
Did you know alumni participation through giving is considered in university rankings, such as those they publish in U.S. News & World Report? Alumni giving is a proud tradition across the country, with other nationally competitive schools enjoying around 14 percent to 18 percent of their alumni making an annual gift. The 2015-2016 goal for "alumni participation" at UH is 14 percent. For UH to reach this goal, our alumni need only to choose to make a gift. UH alumni who give back every year receive perks, such as access to the UH Libraries, Skillport professional and software training and the Wellness Center on campus.
Your gift…
Sustains and supports people and programs. In these days of increased competition for scarce public funds, universities must increasingly rely on private gifts from alumni and friends to provide a margin of excellence.
Strengthens the value of your degree. Alumni giving is a criterion used in the national rankings of colleges and universities. Your gift publicly demonstrates your pride in the University of Houston and your investment in its future. As the University's recognition increases, so does the value of your degree.
Influences opinion-makers. The percentage of alumni who give to the University of Houston is also a factor when corporations and foundations award grants, when high school seniors and parents evaluate colleges and universities and when other donors prepare to make their philanthropic decisions.
Make your gift today at uh.edu/giving.