Class Notes
Did you celebrate a new addition to your Cougar family? How about a big promotion? Did you receive a major award, tie the knot or publish your book? Inspire and inform your Cougar Family with a Class Note. Share your latest accomplishments with us so Coogs across the world can celebrate with you. Your Class Notes may be published in either the fall or spring edition of the UH Magazine.
Send your Class Notes to alumni@uh.edu, and send us your photos so we can add a face to your announcement. For best quality, photos should be submitted in at least 3" x 5" size at 300 dpi (or 900 x 1500 pixels).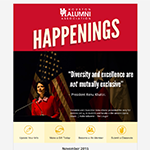 UHAA Happenings
The University of Houston Alumni Association's monthly newsletter, UHAA Happenings, helps you stay on top of exciting UH and alumni news, events and programs.
If you are not receiving UHAA emails or wish to change your preferences, visit uh.edu/subscribe.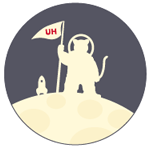 The Lunar Cougar
The Lunar Cougar is a new University of Houston blog featuring Q&As with some of our 255,000 total alumni and how they use the skills they learned at UH to make a difference in their communities every day. Visit the Lunar Cougar at development.uh.edu/lunarcougar.
Know a fantastic UH alumnus we should profile? Or do you have any questions or feedback about the blog? Either way, we want to hear from you! Email the Lunar Cougar editors at lunarcougar@uh.edu.
Tell Your Story
The featured profiles and articles in Alumline, as well as those found in Happenings, the electronic monthly newsletter of the alumni association, and other online and print University publications, were made possible because so many alumni and friends chose to share their stories with us in the first place! We appreciate your boundless enthusiasm for UH and would like to hear more about your unique University of Houston experience. To get in touch with us and let us know about your favorite memory or to share something about UH that inspired you, email mystory@uh.edu and tell us more!
UHAA Alumni Travel Opportunities

Cuban Discovery: 9 Days Throughout Cuba — April 16-25, 2016
With changing Cuba-U.S. relations happening right before our eyes, now is the best time to experience the island's rich cultural heritage. Join up to 25 travelers on a journey that will leave you captivated by the history, natural beauty and architectural majesty of Cuba — one of the world's most vibrant nations.

Coastal Alaska: 7 Night Luxury Cruise — Aug. 4-11, 2016
Travel to Alaska, a natural wonder of stunning landscapes and unspoiled wilderness, aboard Oceania Cruises' elegant Regatta. Depart Seattle and sail to Ketchikan, through the incredibly scenic Tracy Arm fjord to Wrangell, with a stop in Prince Rupert, B.C. on your return to Seattle.
European Empires of Artistry: 7 Night Luxury Cruise — Oct. 14-22, 2016
Take in quaint European towns and cosmopolitan cities on a luxury cruise aboard Oceania Cruises' elegant Nautica. Unwind on the lovely Spanish island of Minorca, explore cultural charms in Sète, Marseille and Monte Carlo and delve into the intriguing history of Portofino, Florence and Pisa.
For more information about UHAA Travel, visit houstonalumni.com/travel or email us at alumni@uh.edu.
2015–2016 Events
Nov. 4 UHAA Celebrity Golf Tournament
Nov. 7 Homecoming Reunion Events
Nov. 7 Party on the Plaza vs. Cincinnati
Nov. 14 Party on the Plaza vs. Memphis
Nov. 17 Career Fair for Dec. Grads & Young Alumni
Nov. 27 Party on the Plaza vs. Navy
Dec. 6 Fall Ring Ceremony
December NSM/Technology Christmas Party
December Hispanic Alumni – Navidad en el Barrio
January ComDAN Awards Night
Feb. 10 Cougar 100 Career Fair
Feb. 23 E Week Gala
Feb. 25–27 Rodeo BBQ Cook-Off
Mar. 7 UH Night at Houston Rodeo
Mar. 24–26 Frontier Fiesta
Mar. 26 Frontier Fiesta 5K for the Brave
March Ft. Bend Golf Tournament
April 14 Hilton College Alumni Awards
April 19 Sigma Nu 60th Anniversary Gala
April 30 Spring 2016 Ring Ceremony
April Engineering Golf Tournament
April CenterPoint Energy UH Alumni Annual Assembly
May 7 62nd Annual Alumni Awards Gala
May 12 Senior 27 Awards
May 16 Bauer Golf Tournament
June 9 Engineering Gala
To view UHAA's events calendar and register for upcoming events, visit houstonalumni.com.