By Joelle Carson
Brent Spiner (FS '71), prolific film, television and stage actor, musician and 2017 Distinguished Alumni Award recipient, can trace his successful career to his education with the late Cecil Pickett at the University of Houston. A native Houstonian, he is best known for playing Lieutenant Commander Data for seven seasons of "Star Trek: The Next Generation," and has recently been seen on the big screen in "Independence Day: Resurgence." We caught up with him about the importance of having a mentor, his favorite Houston memories, and what he's watching and working on now.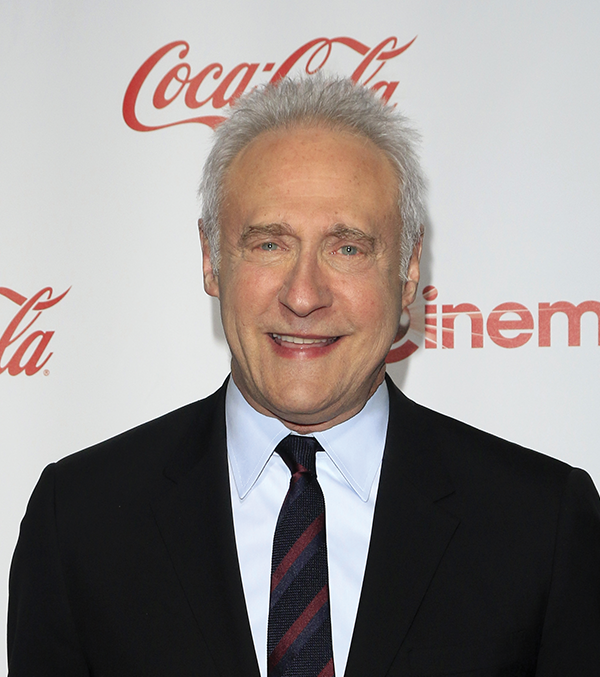 UH: Congratulations on being a 2017 Distinguished Alumni Awardee! What does that honor mean to you?
BRENT SPINER: I'm very pleased to be receiving it. My experience with the University of Houston was so positive. In fact, I wish I had been there for my entire college experience — I went someplace else first and then transferred to continue studying with Cecil Pickett. I wasn't the only student to do that; we followed him when he came to UH because he was a teacher extraordinaire, and a human being extraordinaire. I also had the opportunity and the good fortune to work with Sidney Berger at UH, who was a wonderful guy and a great administrator; a very talented individual in his own right. It was always a fun and inspiring place to be.
I know that you left UH to go to New York and you began your successful career there, but what is it that makes you wish you'd stayed to graduate?
I think all I need to graduate is one language requirement, and even when I left to go to New York to pursue my career, I promised my mother I would finish one day. So, you never know, that could happen sometime in my 80s or 90s. Get ready, University of Houston. I may be back.
We'll be ready for you! Have you been back to campus since you were enrolled?
The last time I was on campus that I can think of is when I was still living in New York in the 1970s. I came back to visit my girlfriend at the time, and while picking her up at UH from rehearsal one night, campus security pulled me over. I got out of my car, and the officer said, "Put your hands on the car, you're under arrest." The reason was for having $200 in unpaid parking tickets! My girlfriend had to go out in the middle of the night and knock on doors of people we knew to see if she could gather the cash, because that was the only thing you could do back then. She got me out by morning. So, that was my last trip to UH! That's not why I haven't been back — I just never had the opportunity before.
That's awful! Parking is still a challenge, you may or may not be pleased to know.
That's my lesson to all the young students: pay your parking tickets, or you could wind up in the slammer, and believe me, it's no fun.
Cecil Pickett was your teacher for a long time; are there particular lessons he taught you that come back to you in your career and daily life?
The most important thing I learned from Cecil — and I think this is true of anybody who studied with him and went on to a professional career in the arts — was that he made me feel like I had something to offer. For a young student, that's a really important thing. At that time of your life, you're questioning everything, particularly your own value, and Cecil gave us all of us a sense that we could succeed. And as a result, I never questioned it after that; if he was certain of that, then so was I, because I had so much respect for him.
Beyond that, he gave us all a real sense of the importance of the work we were doing, that it wasn't just fun and games; we had to take it seriously, and work hard at it. Another thing was that he trained us to do as many different things as we possibly could, and that's come in very handy for me through the years. We did classics, contemporary plays, musicals — I've done all of those things subsequently in my professional career, and felt equipped to do them because of Cecil's training.
Have you heard about UH's new College of the Arts? It's opening in the fall and will unite the School of Theatre & Dance, Moores School of Music and the School of Art, among other arts programs, with a focus on the interdisciplinary aspect of artistic training. You're an actor, musician and a singer; what are your thoughts on having a dedicated College of the Arts?
I think it's potentially a very good idea. People who go into the theater in particular need training in as many areas of the arts as possible. So, it will be very beneficial to students to have that opportunity.
What was your favorite role you played at UH?
My favorite role at UH was probably Shylock in Shakespeare's "The Merchant of Venice," which Cecil Pickett directed. It's a role I would like to play again; I'm almost the right age for it.
How did that particular experience inform future roles?
I think every role informs every role. You build on your knowledge and your expertise, and the more you work, the better you are.
Have you kept in touch with the unofficial troupe of actors who also studied with Cecil Pickett in high school and college?
Quite a few of them. I'm always really pleased to see my friends from high school and college who were in the theater department. I've stayed very close to Cindy Pickett ('72) and Brett Cullen ('79). I still run into Dennis Quaid ('74) occasionally. This is the thing that stands out to me most of all: I studied at a professional acting school in New York after college, and I have never again seen anyone who was in my class there. I've never seen them in anything or run into them. And yet, I see people from my high school and UH days all of the time in the professional world.
I have a few more questions that are more general. Patrick Stewart has described you as "one of the funniest men I've ever known," and Levar Burton as "one of the smartest." What superlatives would you ascribe to them, respectively, after spending so many years working together on "Star Trek: The Next Generation"?
Patrick is a mensch. He's just a great man, period. And Levar is one of the most important gentlemen who has ever graced the earth. He's created so many iconic experiences in his life, from "Roots" to "Reading Rainbow."
You're on a new TV show now, "Outcast," from the creator of "The Walking Dead." Are you a big horror fan?
I am a horror fan, I don't know if I'm a big horror fan. I'm a fan of the classic horror films. When I was a kid in Houston, the Bellaire Theatre showed a triple feature of classic horror movies every Wednesday in the summer, and my friends and I would go every week. There's this great tradition of wonderful character actors who do horror later in their careers.
Do you think you'll go in that direction as your career progresses?
I don't want to completely go in that direction. We're in a different phase of entertainment now; there's such a volume of it, I'd like to think I can cross different borders and do as many different things as I possibly can.
Is there a particular TV show that you make an effort to watch these days?
I'm a huge Western fan; my favorite show of all time is "Deadwood." I watch a show called "Hell on Wheels," which I originally started watching because my friend Colm Meaney from "Next Generation" was in it. It's a terrific, underrated show in its last season, much to my chagrin. I like "Game of Thrones," I like "House of Cards"… anything with a preposition between two words, I like that show.
In your 1991 album, "Ol' Yellow Eyes is Back," you perform cover versions mid-century standards. If you could perform with any member of the Rat Pack, who would you choose?
That is tough. Can't I just be in the Rat Pack? Frank, Dean, Sammy and Brent — that's a concert I'd like to do.
What was your favorite song to perform as John Adams in the 1990s Broadway revival of the musical "1776"?
"1776" has one of the great scripts of any musical ever written. But as far as the music is concerned for John Adams, I don't think anything gets better than the opening number. It's so exciting, and it draws you right into the show and keeps you there.
Another U.S. history-themed musical, "Hamilton," is wildly successful on Broadway now. If there's going to be another musical about U.S. history, what's your vote?
Let me say this about "Hamilton" first; I saw it, and it is unbelievable — really, so incredible. It would be great if [creator and star] Lin Manuel Miranda could wrap his brain around an old Jew playing Hamilton. I think it would be perfect for me! As for another history-themed musical, I think this whole Brexit thing is going to make a big musical one day.
Is there anything else you'd like to share with UH alumni and current students, besides the importance of paying campus parking tickets?
For students, just take the college experience seriously, and learn as much as you can. If you really love what you're doing, then pursue it professionally, and if you think you could do something else, do that.