By Jeff Sutton
Attending the University of Houston is a family affair for Drue Terry DaSilva ('93, M.S. '99). She followed in the footsteps of multiple family members and now counts a pair of nephews as the latest to join the Cougar family. "I felt comfortable here from the first visit," she notes.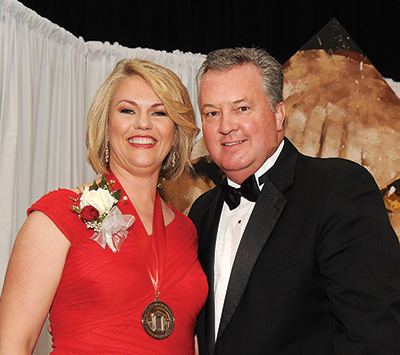 Today, you can find her attending or volunteering at any number of events on campus, from cheering on the Cougars athletic teams, taking in concerts performed by students in the Moores School of Music or giving her time to help the alumni association with their annual Ring Ceremonies. Being active and involved is something that started when she was on campus as an undergraduate student.
While a student at UH, DaSilva was very involved on campus as a member of Chi Omega sorority, Sigma Alpha Iota (a professional music sorority), Student Foundation, Order of Omega, the Orientation Team and the Wind Ensemble.
"One of the founding purposes of Chi Omega is community service. I took that to heart and found ways I could be involved on the UH campus." She continues, "I feel best when I am helping others, and I know that UH and Chi Omega helped shape my thoughts on community involvement."
That involvement on campus has continued post-graduation. She is a member of the UHAAF Board of Directors, serves on several UHAA committees and is active with the College of Technology Alumni Association. Outside of UH, DaSilva volunteers with the Junior League of Houston and Chi Omega, where she participates on both a local and national level. She also helps raise funds for a number of animal rescue organizations.
"The great thing about volunteering is that it is something anyone can do. I know that the relationships and experiences I have gained while volunteering have changed my life. My perspective on life changed when I made service a priority."
That passion for volunteerism was recognized by UHAA at the 61st Annual Alumni Awards Gala in 2015, when DaSilva was honored with the UH Alumni Outstanding Volunteer Award. She says, "I felt very humbled to be honored. I am extremely proud of being a UH Cougar and I will always remember when I received the call informing me that I was receiving the award."
As the University continues to grow, you can rest assured that Drue DaSilva, along with so many other dedicated Cougars, will be actively involved with her Cougar pride shining bright.