By Jeff Sutton
After beginning college in Mississippi at Delta State University, Earl Cummings ('91) found himself in Houston working full-time and looking for a place to complete his undergraduate education. Cummings landed at the University of Houston where he could take Information Technology courses at night while he spent his days working at Ben Taub Hospital and the Harris County Hospital District.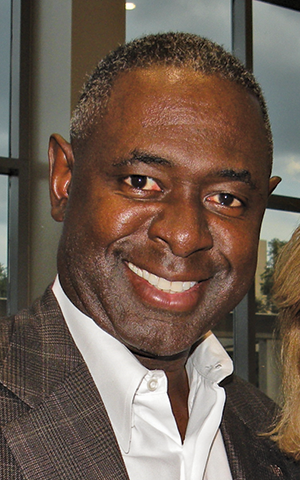 "UH provided me with a quality education. The cost, compared to other schools, provided a tremendous value for the quality of education I received," he says. He credits not only the education, but also career planning and placement services, for preparing him to enter the workforce as a college graduate. "I felt ready to go into corporate interviews and I was more than adequately prepared to enter the workforce," he says, citing practice interviews on campus and the extra steps UH takes to prepare students for their job searches.
In 1991, he started his professional career in Information Technology at Texas Children's Hospital. By 1995, he had become an entrepreneur, and went on to co-found Bestaff Technical Services (later The BTS Team, an Information Technology and Staffing Firm). Five years later, his attention shifted to pursuing government contracts in Technology and Real Estate. By 2004, his entire focus had shifted to real estate, providing property management and sells services for 10,000 to 15,000 single-family residential properties in more than 30 states. Presently, he serves as Managing General Partner of McLean Capital Management where his focus is on capital raises, acquisition, management and lease of single-family residential properties.
Outside of his professional endeavors, Cummings also gives time and energy to support community causes. One cause that is close to his heart is C-STEM (Communication, Science, Technology, Engineering, Mathematics), an organization for which he holds the title of Chairman Emeritus of the Board of Directors. Additionally, Cummings sits on the Board of Directors of Yellowstone Academy, a private school located in Houston's Third Ward dedicated to providing a high quality faith-based education exclusively to students from economically disadvantaged families.
In these roles, he is able to make connections between young people and UH by bringing C-STEM events to the UH campus or introducing Yellowstone students to the campus. He adds, "I frequently take kids to UH so they can see this school that is in their backyard, where they can get an education."
Cummings also speaks of his financial support of UH and the need for scholarships. It is important for him that scholarships he funds be accessible to students in need. He says, "Had I been able to focus on school full-time, maybe I could have had a 3.8 grade point average, but I didn't have that path. When you don't have that opportunity to focus on school full-time, a little help can make a big difference. Those scholarships have the potential to help a kid to excel."
His dedication puts Cummings at the forefront of the ever-growing number of Cougar alumni making a positive impact in the lives of current students.