Former Ms. Wheelchair America Lets Nothing Slow Her Down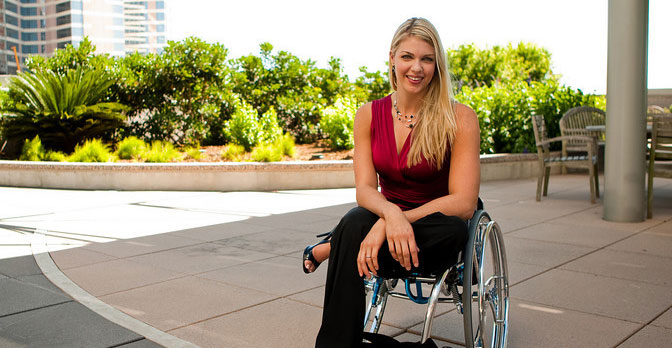 For years, Michelle Colvard didn't like to acknowledge her differences.
Born with spina bifida, Colvard has used a wheelchair for most of her life, but early on she ignored her mobility limitations.
"When I was a kid, many times I felt like I was being set apart from everyone else, by the school system for example," she said. "I grew up with that feeling for a long time, and didn't want to identify as someone who had a disability."
But eventually, Colvard, a UH alum, decided it was time for her to help others who didn't have the same advantages.
"It started to dawn on me that there are a lot of people who didn't have the opportunities that I did. They didn't have the parents that I did," she said. "They had disabilities and they weren't being able to benefit fully from life because they were either putting themselves in a box, or other people were putting them in a box."
The realization led her to search for opportunities to advocate for people with disabilities, and ultimately resulted in her selection as Ms. Wheelchair Texas in 2008 and Ms. Wheelchair America in 2009.
"I think you are much stronger when you embrace that part of yourself," she said. "I began doing community work to try to improve things and increase awareness of people who have disabilities and show others about the opportunities and ways we can all work together."
Her goal, she said, was to encourage others with disabilities to develop the same independence she learned early on from her parents and developed further as a student at the University of Houston.
"When I got to college, it was like I just woke up," she said. "I absolutely loved it. I loved that it was all about you. The professors may give you homework or an assignment, but it is up to you to finish it. It is up to you to do it. You are the only one that is going to be responsible for it. I totally thrived in that environment."
Colvard majored in psychology, in part because she was interested in the way people react to problems.
"It's not just the problems that they have, but how they overcome those problems that is most interesting to me," she said.
As a student, she began working as a research coordinator for a special psychology research study dedicated to analyzing the treatment of child behavioral problems in families with domestic violence. Colvard said she learned a lot by observing the children in those situations.
"A lot of those kids are not going to do well. They may watch their mom get beat up, or have a gun held to her head. Sometimes the kids themselves are abused," she said. "What was always interesting to me was the kids that overcame all of those situations and worked really hard and maybe found a different outlet."
After graduating in 2000, Colvard's research job turned into a full-time job. She stayed at UH for more than four years before moving onto graduate school at the University of Texas School of Public Health.
"While I was at UH, I learned a lot of the discipline that you need to go to grad school and to think critically," she said. "I had some excellent professors that really taught me well, and helped me, really encouraged me to think for myself."
In graduate school, while she was working toward her master's in health promotions, Colvard was appointed to the Houston Commission on Disabilities – a position that enabled her to encourage the city to improve recreational options for people with disabilities.
Later, she was hired to serve as the executive director of the Mayor's Office of People with Disabilities. In that position, she helped develop new programs and support existing programs for people with disabilities.
Eventually, after being encouraged by her friends and her husband, Colvard agreed to enter the Ms.Wheelchair Texas pageant in 2008.
"At some point, I thought this might be another opportunity to reach out to the community, to reach out to people and show them that just because you have a disability doesn't mean that you can't be successful, that you can't have a higher education, that you can't work full time or hold challenging jobs and a successful career," she said.
After winning the state crown in 2008 and the national crown in 2009, Colvard went on the road, speaking at events before a variety of audiences.
"I would speak to people with disabilities and try to provide some encouragement and helpful insight, and link them to resources," she said. "Or I would speak to general audiences and try to raise more awareness about people with disabilities."
Personal fitness for everyone, particularly those with disabilities, is Colvard's major passion. She enjoys spending time on wheelchair sports, including wheelchair soccer and basketball tournaments held at the UH Campus Recreation and Wellness Center.
She also is an avid autocross racer, and spends time each month racing her car through an obstacle course.
In her current job as manager of research integrity at M.D. Anderson Cancer Center, Colvard said she is constantly inspired by the patients she sees every day.
"I am inspired by people who are struggling with cancer," she said. "I try to put myself in their shoes – I don't have a condition that is terminal. I have some challenges, but not so much in the scheme of things."
When she sees patients making the most of their lives, she is inspired anew to encourage those with disabilities to make the most of theirs.
"My message is no matter who you are, where you came from, you can change your path, you can change your destiny," she said. "You may have come from difficult circumstances. But to me, life is an adventure. It is something for us to take advantage of every opportunity. Don't let opportunities pass you by."