Shasta's Story Round-Up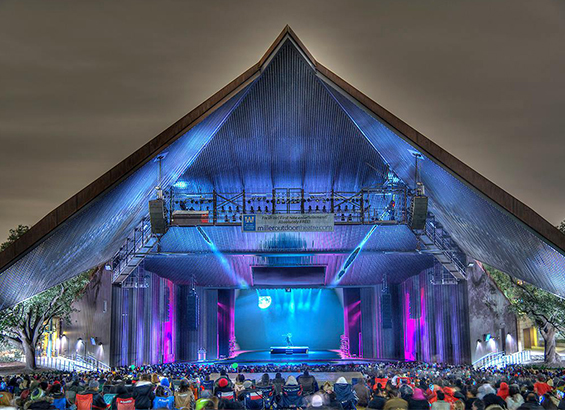 Happy Houston Shakespeare Festival Day! Make sure to see Broadway veteran and UH alumnus Dylan Paul (M.F.A. '12) in "Twelfth Night" and "Richard III." Coogs aren't only dominating the arts this summer; we're transforming the scientific landscape with innovative research. Find out more in the Round-Up!
Students and faculty from the Gerald D. Hines College of Architecture and Design recently returned from Berlin, Germany! Learn more about their exhibition, "Houston: Genetic City" and more on their website.
Doctors Hospital at Renaissance Health System and the University of Houston have committed to launching a satellite program for the University of Houston College of Pharmacy (UHCOP). The UHCOP Rio Grande Valley (RGV) satellite program will serve as a major teaching site for the college's Professional Pharmacy Hispanic Healthcare Certificate Program — the first program of its kind in the nation.
University of Houston rising senior Edgar Melchor is a finalist in the 2017 Major League Soccer WORKS Community MVP contest. He will be honored on the field as the Houston Dynamo's Community MVP during the match against Portland at 7 p.m., Saturday, July 29 at BBVA Compass Stadium. Melchor is one of 22 finalists nationwide — one from each MLS club — being recognized for making a positive impact in their communities.
The Society for Experiential Graphic Design recognized UH designers with two awards for outstanding exhibitions made with Creative Writing students. "En/Gulf: Ecopoetics of the Gulf and Bay," an expansive exhibition made with UH Professor Martha Serpas, won an Honor Award, and "Written Wor(l)ds," developed as part of a Creative Mapping course with UH professor Peter Turchi, received a Merit Award.
University of Houston researchers in the Department of Health and Human Performance are helping patients with Parkinson's disease regain stable balance and confidence in performing daily activities in their own homes. A research team is developing the Smarter Balance System (SBS), a smartphone-based biofeedback rehabilitation system that guides patients through a series of balance exercises using wearable technology.
Congratulations to Dane Ralph, a senior at C.T. Bauer College of Business, for earning the scholarship that will allow him to graduate debt-free and pursue his passion for service through entrepreneurship!
Mae Woods (B.B.A. '14, M.S. '15) spoke with the College of Technology about how her degree in Global Retailing prepared her for her career as COO for a Hong Kong-based company.
A team of University of Houston geoscience graduate students won the 2017 Imperial Barrel Award (IBA) World Final, beating out 190 other student teams in the process and winning a $20,000 check, which will fund academic activities in the Department of Earth and Atmospheric Sciences in the College of Natural Sciences and Mathematics.
Kyle Williams, a student working on his doctoral degree in applied mathematics, has been selected for a graduate student research program offered by the U.S. Department of Energy. He is one of just 53 students in the nation chosen for the DOE's Office of Science Graduate Student Research Program, and the only one working in applied mathematics.
Laurie Sorrenson ('84, O.D. '85) has been recognized by the Optical Women's Association, as one of the 2017 Women of Influence in the Optometry World. This is an annual list to raise the level of awareness of the multi-faceted roles and contributions made by women in our industry.
Shishir Shah, professor of computer science at UH, received a $1.57 million grant from the National Institute of Standards and Technology Public Safety Innovation Accelerator Program to pursue research using video analytics to develop "smart" camera security systems that can automatically alert first responders to relevant issues and emergencies.
A new study by researchers at the University of Houston College of Optometry, published in Ophthalmic & Physiological Optics, found that blue light emitted from smart phones, tablets or flat screen TVs could contribute to the high prevalence of reported sleep dysfunction.
Dan Graur, an evolutionary biologist at the University of Houston, has published new calculations that indicate no more than 25 percent of the human genome is functional. That is in stark contrast to suggestions by scientists with the ENCODE project that as much as 80 percent of the genome is functional.
For ten weeks during the summer, 12 undergraduate students from across the country are getting the chance of a lifetime on the UH campus, becoming engineering researchers in the Cullen College's Research Experience for Undergraduates. The theme of the UH site is "Materials for Sustainability in Energy and Manufacturing."
Andrea Prosperetti, Distinguished Professor of mechanical engineering, takes pride in discovering talent in unusual places. Learn more about Prosperetti, who came to UH in 2016, and his innovative research!
Have a student or alumni story you'd like to see linked on the round-up, or know a Cougar we should profile in one of our weekly interviews? Contact us at lunarcougar@uh.edu. To read more great alumni and donor profiles, or to make a gift to UH, visit the University Advancement home page.