Shasta's Story Round-Up: November 2016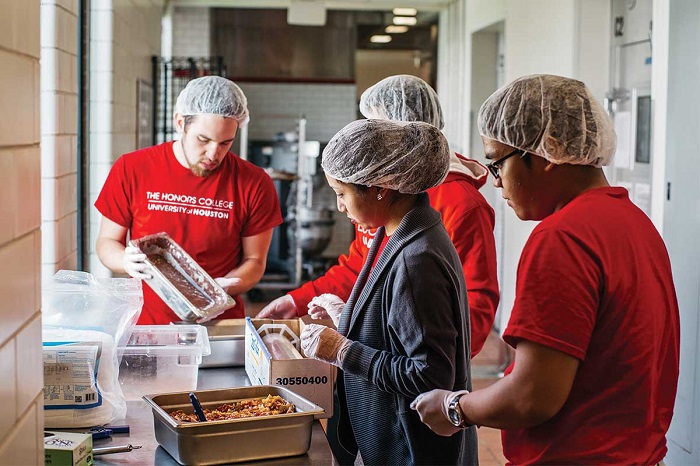 Thanks for stopping by this holiday weekend! Students in the Bonner Leaders Program are serving it up this month and every month by helping those in need. We wish you a very Happy Thanksgiving, from our UH family to yours. Before you dig into your leftovers, check out these turk-rific stories about your fellow Coogs:
UH Philanthropy social media is LIVE! Follow on Facebook and Twitter for great stories about how philanthropy powers student success;
A big thank you to HP! The company donated $500,000 to UH for scholarships designated for students who will be the first in their families to attend college.
The mother of an 8-year-old boy wept tears of joy now that her son has a functioning left hand thanks to two UH engineering students and 3D printing;
UH Law Center mock trial team defeated four schools and wins championship title again this year at a national competition in Michigan;
UH and President Renu Khator toured cities across the nation to get alumni and UH donors involved and excited about the university's future, meeting with people such as Gregg Rockett ('86), Jewel Drinkard ('84), Jeff Binford ('79), and Temple Weiss (M.H.M. '96);
In collaboration with an organization called Gathering of Eagles, UH STEM Center and Bauer College of Business held an event for veterans to inspire and motivate students to pursue STEM;
A reminder to never give up when it gets tough! Fastest swimmer in the world and four-time Olympic medalist Anthony Ervin visits UH and gives inspirational messages to students about overcoming hardship and pursuing a life you love;
Forbes praises UH as a leader in engineering research and education for energy, saying that the school is "increasingly a rival to places like MIT in advancing not just cleaner, safer and more efficient ways of extracting oil and gas from the earth, but also cleaner energy and zero-carbon energy"
UH engineering professor was selected by NASA to teach water management in Indochina by using satellite data; This is a project "to help developing countries use information provided by Earth-observing satellites to manage natural resources";
Students, staff, and alumni gathered at a barbecue in celebration of the 75th anniversary of the Cullen College of Engineering;
Another campus near you! UH has just finalized the purchase of a 46-acre piece of land in Katy where another campus will be opening. Construction is expected to begin in August 2017 and the school is expected to open for Fall 2019;
UH Law Center professor and former dean Raymond T. Nimmer was named "E-Lawyer of the Year" by Lawyer Monthly. He was recognized by his peers in 2011 as the Best Lawyer in Houston in Information Technology Law, in 2013 as the Best Lawyer in Houston in Copyright Law, and in 2016 as the Best Lawyer in Houston in Copyright Law;
Have a student or alumni story you'd like to see linked on the round-up, or know a Cougar we should profile in one of our weekly interviews? Contact us at lunarcougar@uh.edu. To read more great alumni and donor profiles, or to make a gift to UH, visit the University Advancement home page.