Shasta's Story Round-Up: May 2016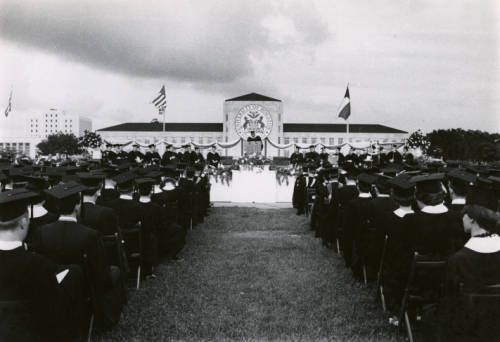 Here at UH, we are flying our flags for Memorial Day and holding those who have lost their lives in service to our country in our hearts. We are also congratulating the 9,705 Coogs who received their degrees this month! Our story round-up has a graduation theme, and showcases a variety of Coogs and UH supporters:
A top-secret mascot, one of Glamour Magazine's "Top 10 College Women," and even a 17-year-old: get the rundown on some of the class of 2016′s amazing achievements;
Dean Dana and Dr. Mickey Rooks — former Dean of Libraries and chemical engineering professor, respectively — talk with us about UH's amazing students, the power of research, and the importance of philanthropy;
Dr. Paul Likhari and his wife, Manmeet, are a driving force behind health care innovation at UH;
Sarah Cortez (M.S. '82) is a true renaissance woman: she's a published poet, a teacher, and police officer! She spoke with us about her many lives and her UH experience;
Get up close and personal with Shasta VI in this awesome video as he "blesses" the class of 2016′s class rings;
Three students were awarded half of the sales price for their submissions to the first-ever "Cougar Art Challenge" in a live auction at the University of Houston's Alumni Gala;
Read more about a few notable graduates from the College of Liberal Arts and Social Sciences, who have a wide variety of life experience and academic interests, and a similar graduation recap from the College of Natural Sciences and Mathematics;
Ivan Jimenez ('13) recently returned from a prestigious architecture fellowship in Germany — find out more in this interview;
Dr. Sarah Mire (Ph.D. '12) has such admiration for the University of Houston's College of Education that after she graduated, she stayed on as a professor;
Read all about fantastic Cullen College of Engineering students and alumni in the newest issue of their magazine, Momentum;
Pharmacology doctoral candidate Santosh Suryavanshi secured a third-place finish in the Graduate Student Best Presentation competition of the Cardiovascular Pharmacology Division at the American Society of Pharmacology & Experimental Therapeutics (ASPET) 2016 Annual Meeting April 2-6 in San Diego;
Six superstar alumni are profiled in the newest edition of "Briefcase" from the UH Law Center — and one even has "Star" in her name!
Have a student or alumni story you'd like to see linked on the round-up, or know a Cougar we should profile in one of our weekly interviews? Contact us at lunarcougar@uh.edu. To read more great alumni and donor profiles, or to make a gift to UH, visit the University Advancement home page.