Shasta's Story Round-Up: July 2016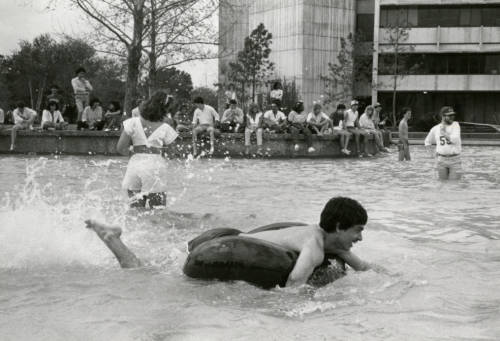 Is it hot enough for you, Houston? If only the underground campus planned in the 1960s had taken off! Just kidding; we love our beautiful, ever-growing Houston home. This month, student athletes are bringing the heat and innovative research shines in our story round-up:
Raising the bar in more ways than one: The UH Law Center won the "Best Law School Award—Best achievement by a law school" in the inaugural "Food from the Bar" campaign by the Houston Food Bank;
Go, UH researchers, go! The University of Houston is among the top 100 university systems in the world for granted U.S. utility patents in 2015;
Coogs are winning big at the IAAF World U20 Championships in Bydgoszcz, Poland! Freshman sprinter Mario Burke took bronze in the 100-meter dash, and less than 24 hours later, fellow freshman Amere Lattin claimed silver in the 110-meter hurdles;
Sports Illustrated (!) has ranked star UH quarterback Greg Ward, Jr., 29th in their list of the Top 100 College Football Players for the 2016 season;
Watch out, mosquitoes: Katy Olafson, a chemical engineering doctoral student studying how anti-malarial drugs affect crystallization in an effort to contribute to the development of new drugs to treat the disease, received a 2016 American Institute of Chemical Engineering (AIChE) Separations Division Graduate Student Research Award;
Looking for a new home? Look no further; the Houston Association of Realtors has named Bauer College of Business alumnus Keeyan Sabz ('11) one of the NextGen Realtor Group's 20 Under 40 Rising Stars in Real Estate;
After an award-winning season on the golf course, University of Houston sophomore Megan Thothong was recognized for her work in the classroom Tuesday when she was named a 2015-16 Women's Golf Coaches Association All-American Scholar;
Three Ph.D. candidates from the Cullen College's chemical and biomolecular engineering department won poster awards for outstanding presentations at this year's Southwest Catalysis Society Symposium, hosted on campus. From reducing auto emissions to developing alternative fuels, the winners showcased the array of groundbreaking research taking place inside UH's chemical and biomolecular laboratories;
Teomics, a startup biotechnology company whose co-founders include a faculty member and a Pharmacology doctoral candidate at UH College of Pharmacy, was recognized among the Rice Alliance 10 Most Promising Life Science Companies at the 2016 Texas Life Science Venture Forum;
Bonjour, innovation! Kian Torabian, a biomedical engineering doctoral student, will bring his innovative Sickle Cell Disease research to France as a 2016 recipient of the STEM Chateaubriand Fellowship;
Check out this video of UH students who have completed an ambitious senior project: refurbishing an out-of-date vacuum chamber at NASA's Johnson Space Center that now will be used to test components bound for the International Space Station and, potentially, Mars or other deep space destinations;
We offer heartfelt condolences to the family of University of Houston great and 10-year NBA veteran Dwight Jones (FS '73), who passed away Monday at Memorial Hermann/Woodlands. He was 64 years old.
Have a student or alumni story you'd like to see linked on the round-up, or know a Cougar we should profile in one of our weekly interviews? Contact us at lunarcougar@uh.edu. To read more great alumni and donor profiles, or to make a gift to UH, visit the University Advancement home page.