Shasta's Story Round-Up: Happy New Year!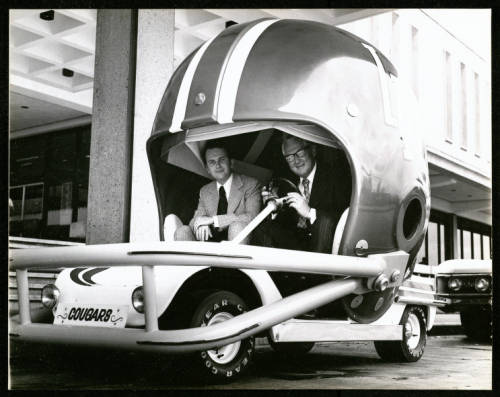 Happy New Year, Coogs! The photo for this post is in honor of the Cougars' Peach Bowl Victory in Atlanta, GA on December 31, 2015. You can read more exciting game details here. As for us, we're adding these high-achieving alumni and students to our dream team roster:
College of Optometry dean, Dr. Earl Smith ('72, O.D. '72) and Dr. Glenn Ellisor ('82, O.D. '84) were among Optometry Magazine's "Most Influential" list of 45 US optometrists;
Sam Schreiber ('74)  and other alumni and friends were impressed by President Renu Khator's "bold and achievable" vision for UH at the Highlight Houston event in Washington, D.C.;
Speaking of Washington, D.C. — meet the five Bauer College of Business students who will spend the spring semester there, working full-time internships (at places like the White House!)  in addition to taking classes;
She started at UH with the ambition to be a special education teacher, but College of Education graduate Crystal Brumfield ('14) has found a calling in education reform policy;
With plans to capture the power of Houston's sun and reuse its abundant rainfall, a group of University of Houston students has completed the first phase of an ambitious project to rethink affordable housing and energy efficiency;
Nathaniel Piety, a biomedical engineering doctoral student at the Cullen College of Engineering, was recently awarded an American Heart Association Predoctoral Fellowship. The two-year, $52,000 award is for the development of a paper-based test aimed at preventing stroke in individuals with sickle cell disease receiving chronic blood transfusions;
In Houston, Leslie Crow ('09, J.D. '13) has begun leading a refugee support group to help residents navigate their new lives in the USA;
As a freshman at that College of Natural Sciences and Mathematics, Thomas Markovich ('12) authored a research paper in a major peer-reviewed physics journal. Now, he's pursuing a Ph.D. in physics at Harvard University, and continues to champion his undergraduate alma mater.
Know a Cougar we should profile? Contact us at lunarcougar@uh.edu! To read more great alumni and donor profiles, or to make a gift to UH, visit the University Advancement home page.