Shasta's Round-Up: April 2017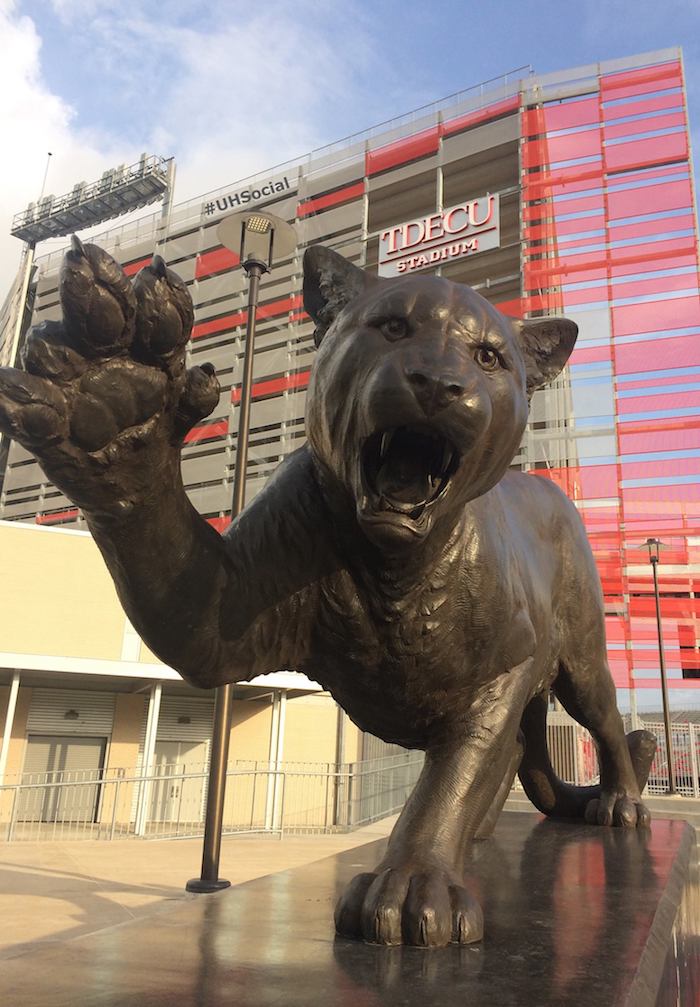 Photo: University of Houston Facebook Page
On April 15, UH unveiled a 1,400-pound bronze cougar statue of Shasta I located at TDECU Stadium. A gift from dedicated alumni and donors, the statue measures 15 feet long, 4 feet wide, and 5 feet tall. Read more about the story of Shasta I's missing toe on the alumni website, and make sure to rub the statue's paw for luck on your next visit to campus! Want to know what else has been going on with your fellow Coogs? Check out these stories:
During six terms in Congress, six years as a Texas state legislator and Democratic National Committee official, Mickey Leland focused much needed attention on issues of health and hunger and rallied support that resulted in both public and private action. He died too soon in 1989, but, his legacy lives on in the lives and accomplishments of the Leland Fellows: Hobby School of Public Policy students who complete internships in Washington, D.C.
On March 30, the "Here, We Go" Roadshow swept Los Angeles, California, and Segun Oduolowu ('00) was one of the very spirited Coogs on the planning committee. Fans of his appearances on television shows like "Access Hollywood Live" know that he isn't afraid to make his voice heard, whether he's addressing issues in sports, pop culture, politics or entertainment news. We caught up with him about another passion of his — his alma mater!
Attorney and TV personality Star Jones (J.D. '86) will be in Houston soon to receive her Distinguished Alumni Award! Read more about her on the alumni website.
Former NBA player and Phi Slama Jama legend Hakeem Olajuwon ('84) talked about how Houston changed his life: "To be here at the University of Houston, to be drafted by the Rockets in Houston … that is something that is part of a dream situation."
A newly interactive program led by students at the UH College of Pharmacy, in collaboration with the American Lung Association, is helping elementary students with asthma manage their disease through weekly classes and exercises.
An environmental engineering graduate student has won the American Chemical Society (ACS) Environmental Chemistry Graduate Student Award. This prestigious honor is only given to a maximum of 25 students annually.
Gerald D. Hines College of Architecture's Community Design Resource Center (CDRC) and the non-profit organization Design and Avenue Community Development Corp are joint recipients of the American Planning Association's (APA) 2017 National Planning Excellence Award. Both organizations are being honored for their role in improving housing conditions and enhancing education opportunities.
A chemical engineering graduate student has been awarded a NASA Space Technology Research Fellowship to identify new materials to develop a safer battery.
A public art installation called "The Miraculous: Houston" is using UH as its canvas. This installation is a larger-scaled version of a book called "The Miraculous" by Raphael Rubinstein, a professor of critical studies in the Kathrine G. McGovern College of the Arts. It features bright yellow vinyl panels plastered around different areas of campus with 50 micro-narratives about the lives and works of different artists.
An alumnus from the Moores School of Music collaborated with an award-winning pianist to accompany Houston Ballet Academy students in this year's Ballet Orchestra.
The UH Department of Health and Human Performance (HHP) has received a grant to start the Undergraduate Student Training in Obesity & Nutrition Houston Academy. The Academy will provide 40 fellowships to disadvantaged undergraduate students to address health issues related to obesity and nutrition in communities near UH.
During the 17th Annual Leadership & Awards Ceremony held by Bauer College of Business, students were recognized for their leadership skills and accomplishments.
A petroleum engineering student won first place in the Society of Petroleum Engineers (SPE) Gulf Coast North America regional student paper contest and will be representing UH in the international contest.
The UH Law Center's Environment, Energy & Natural Resources program was recently recognized as one of the top schools in the U.S. for environmental law.
Three graduate student teams from Bauer College of Business earned the top three spots at the 2017 APICS Terra Grande District Competition. The top team also won the opportunity to represent the Terra Grande District in the 2017 APICS Annual International Conference, where they will compete against winning teams in the U.S. and around the world.
A researcher in the Earth and Atmospheric Sciences department in the College of Natural Sciences and Mathematics recently returned from his expedition in Antarctica where he and his team recovered 219 meteorites.
A Bauer College of Business professor has been named the 2017 Houston Women in Business Champion of the Year in the small business awards competition held by the U.S. Small Business Administration.
The second annual "Girls Engineering the Future Day: A Stem Event" was held this past month. Sponsored by Chevron and hosted by the Cullen College of Engineering, the event allowed almost 500 Houston-area girls in grades 4-8 to take part in hands-on activities that taught them about science, technology, engineering, and mathematics.
A UH Law Center alumna was recently selected as the 2017 Outstanding Young Lawyer by the Houston Young Lawyers Association.
A Jack J. Valenti School of Communication student won a $5,000 scholarship from the Texas Associated Press Broadcasters (TAPB) organization. She will be recognized during the TAPB radio and television competition awards banquet in the coming month.
A team of geoscience graduate students from the College of Natural Sciences and Mathematics won the 2017 Imperial Barrel Award (IBA) World Final, where they beat 190 other teams.
Have a student or alumni story you'd like to see linked on the round-up, or know a Cougar we should profile in one of our weekly interviews? Contact us at lunarcougar@uh.edu. To read more great alumni and donor profiles, or to make a gift to UH, visit the University Advancement home page.