Raquel Padilla ('01)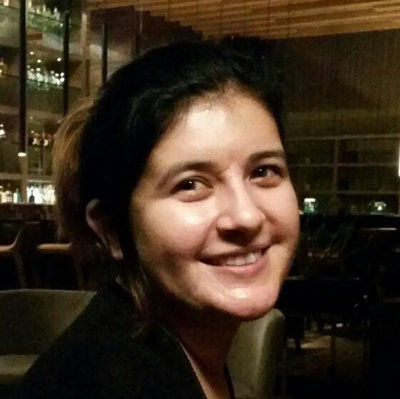 Raquel Padilla ('01) is a Principal Engineer at EXP Engineering International in Houston, having studied electrical engineering at Cullen College of Engineering. She is a Galveston-area native, but now lives within Houston's inner loop, and loves to take advantage of Houston's diverse cultural offerings.
Did you always know that you wanted to be an engineer?
Yes, ever since high school. When I was in chemistry in 10th grade, an engineer visited our classroom for National Engineering Week. At the time, I didn't even know what an engineer did. But I was into math and science, and when I heard the starting salary, it sealed the deal!
Plus, my dad was an electrician, so I would watch him work and ask questions. Spending time with him made me decide to become an electrical engineer. When I got to college, I continued to find it interesting, and I'm glad I decided to pursue it.
How did you come to UH, and how has your education here shaped your life?
I started by going to community college and had pretty much completed all the math and science courses there, so when I got to UH I was doing straight engineering. As far as shaping my life, the diversity I encountered at UH is a big part of it. I grew up in kind of an isolated, working-class town in the Galveston area, so it was very eye-opening for me to see all the different cultures, different personalities — different things that I wasn't exposed to where I used to live. I learned about so much outside of the classroom just by being there.
Do you think that the diverse environment helps you in your job now?
I think to a point, it does. When I got into my career, I felt comfortable already because I'm used to not always being around people with the same background as me. It made me comfortable, I didn't feel scared or intimidated.
You work for an engineering company now — how does that differ from working at BP?
I was at BP for ten years and moved around the company a lot. I started out at the refinery in Texas City, but then I moved to a job that involved a lot of travel around North America. Not very fun places: hole-in-the-wall places in Wyoming, Canada, that kind of thing. The whole time I was at there, I was more of a managing type, overseeing engineering companies doing the work and verifying that it was okay.
My job now is totally different. I'm a part of an engineering company, so now I'm the one doing those procedures. Now, I'm the person worrying about all those details, and it makes me have a greater appreciation for all those people I was managing before. It's a backward thing — usually you'd start doing the detail work and work your way up, but in this case, the opposite happened. But I like it, and I believe my job is safer than in an oil company because we have multiple, smaller clients instead of being dependent on one company's budget.
What other goals do you have for your career?
My biggest goal is to inspire people from low-income communities to pursue engineering or other college programs — communities like the one I came from. I want others to know that they can do it — it's a struggle, don't get me wrong, but people can do it. I talked to a couple of schools in the Pasadena area or South Houston — some of it was a BP initiative. BP was a big sponsor for an initiative called the Houston Hispanic Forum. It was just starting out when I was there, now it's extremely popular within the community. I was able to talk to students at a huge conference. Somehow, I got the job to recruit people each year. We always had a good time, talking to students and inspiring them. Through events like that, students would come to me and say, hey, I'd love for you to come and talk at my school. And that's how I got into that.
I try to give people inspiration to do something. My biggest thing is, I was married and had a baby at age 19. I knew I still wanted to go to school, so I stayed closer to home and went to UH, and it was great. I love the people I met there, and I have friends to this day who I went to school with there.
Have you been back to campus recently?
Not recently, but I used to recruit there when I worked for BP. We'd go to career fairs and conduct interviews with students. BP hires a lot of UH grads — now, anyway. My former co-workers and I always brag that we were the ones who told BP about how great UH is. Before we starting building them up, they mostly focused on recruiting elsewhere. My co-workers and I said, you have this great engineering school right here in the city — why aren't you getting more recruits from UH? Now, they get a good percentage of their recruits from here.
Do you have any favorite UH memories?
The College of Engineering had a chili cook-off every year. They would have a contest between professors — they'd have to solve complicated problems, but they could only use a slide-rule. It was always fun to watch them squirm and try to figure stuff out. Whenever I was recruiting on campus, we'd have a BP team, and we'd cook chili and participate in the contest to get our name out to students
Did you have to do the slide-rule problems?

Heck no! That was just for the professors. We just watched and laughed when they couldn't figure the problem out… not that we could either…  it's always fun, they always have a good crowd.
Another favorite memory was working with [Professor Emeritus] Dr. Betty Barr, who was so nice to me. She was an amazing advocate for women in engineering. When I needed a job, she encouraged me to apply to be a proctor for her. I did that for four semesters. It was a great college job, especially for me, because I had a young kid at home. It was really fun.
What do you like best about living in Houston?
I love Houston. I really appreciate it now, because I grew up outside of Houston and after that I lived in the suburbs so my daughter could attend school there. Now that she's in college, I moved back inside the loop. I love to come into town for shows and other activities, and it's so nice to not have to travel 45 minutes to an hour to do that. Now that I live here, I've seen just about every show at Alley Theatre, every show at the Hobby Center — if there's a good show coming up, I'm going to watch it. We can walk to the Museum of Fine Arts. And we're too tired to walk back, so we can just catch the bus — I could never do that living where I used to.
How long have you been into theater?
I mostly thank my daughter for that. I've always liked plays, but she loves musicals. She had me going to musicals from the time she was 10 or 11. I don't go to as many as I used to, but I do still go occasionally. As she grew older, we went from seeing shows like "Mary Poppins" to "Kinky Boots." Having access to the city like this, she's very culturally open compared to some of her peers.
Do you have any other hobbies?
I love ballroom dancing! I actually got into it through salsa dancing, and I try to go whenever possible. It's a very social thing — if you don't bring a partner, you will find one there. It's all very friendly and different from what people think of when they think of "dance clubs."
Do you have any advice for current UH students or aspiring engineers?
Don't give up. In my class, I saw people giving up as soon as classes got too difficult. It's tough and a struggle at times, but it's worth it in the end. It's a good career to have — you can do pretty much anything.
Know a Cougar we should profile? Contact us at lunarcougar@uh.edu! To read more great alumni and donor profiles, or to make a gift to UH, visit the University Advancement home page.