Philip Hays ('06)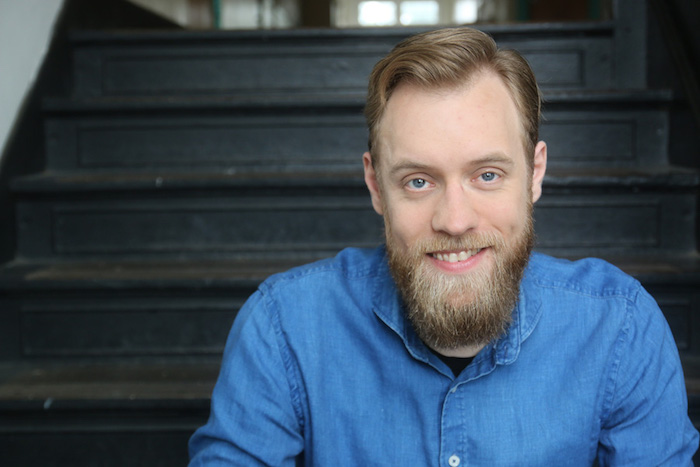 Philip Hays ('06), an Houston-area actor and director, was recently named "Best Utility Player" by the Houston Press Theatre Awards. He recently returned to UH to direct a student production of Thornton Wilder's classic play, "Our Town." He is a company member of Horse Head Theatre Co., and the Houston Press named "The Whale; or, Moby Dick," which he co-developed and starred in, Houston's best new play of 2015. He has studied with Antonio Fava in Italy in addition to his studies at UH, and has worked on more than 30 productions in Houston as an actor and director with a variety of theatrical companies.
LUNAR COUGAR: Are you from Houston originally? What is your impression of the theater and arts community here?
PHILIP HAYS: I grew up in the suburbs — Sugar Land, specifically — and I've predominantly lived here in Houston since graduating from UH. I'd have to say that in that time, the growth of the theater community has been impressive. What once seemed a handful of scattered small organizations is now a thriving interconnected community of organizations, and it's chock full of UH graduates making their way too.
What was it like to return to UH to direct "Our Town"? Was it strange to have the roles reversed as you worked with current students?
Absolutely strange! I found myself starting sentences much too often with "When I was a student here…" But the experience was also thrilling, meeting so many young artists and exploring this monumental work with them. It was a great honor to be asked to come back, and I was incredibly impressed with the dedication and work of the students.
Had you been involved with any kind of campus activity since graduating before directing "Our Town"?

I've occasionally returned to visit the library or to see a production at the School of Theatre and Dance, but I haven't been involved with much since I graduated. I was impressed by the extent of new construction; it seems there is a new emphasis on campus life with new dorms and facilities. I noticed that there are a lot more students living on campus now — which is exciting — and didn't seem to be as prevalent when I was attending. One thing that hasn't changed is how diverse and friendly the student body is.
Congratulations on winning "Best Utility Player" in the Houston Press Theatre Awards this year!  Is it a challenge to change back and forth from acting and directing, and do you see yourself trying to focus more on one or the other?
Thank you! I'm very honored to be considered such a jack of (a few) trades. The variety absolutely keeps things interesting, and I am grateful to have the opportunities to practice my craft in multiple ways. As a freelancer, to some degree I have to go where the wind takes me, but I always say if I had my druthers, I'd alternate between acting and directing.
Why did you originally choose to attend UH?
To be honest, because it was close to home and affordable. I began my undergraduate career at another university, but found my way back to living at home and needing to attend a local school. I can't complain, though, as UH provided me the groundwork to begin my career here in Houston and I met some of my best friends and collaborators there.
How did your UH education prepare you for a life in theater – what are the main lessons you hold onto from your experience here? 
In my time at UH, the greatest boon to my subsequent career was a sort of openness in the theater department. It seems now that the program is quite structured, and I think there is great value in that, but when I was here there was just enough room to start an extracurricular theater company and produce works we weren't seeing in the department as a whole. That experience in creating something of our own was one of the most useful when it came to finding my own path after school.
Did you have a favorite professor or class at UH, or any other favorite UH memories?
I loved all my professors in the theater department: Carolyn Boone was one of the first to take a chance on me, a new transfer that no one knew; Brian Byrnes pushed me to work boldly out of my comfort zone; Jim Johnson offered invaluable guidance and advice; Dr. Di Bennedetto opened my mind to theater practices outside the mainstream; and Stuart Ostrow's wealth of practical knowledge and infectious enthusiasm were a delight.
One of the most challenging and interesting memories was my experience directing for Ostrow's musical theater laboratory, which we ultimately staged at a large professional venue. It was entirely out of my wheelhouse, but a fantastic opportunity to stretch. Outside of the theater department, I remember a class on Chaucer very fondly; I don't recall the professor's name, but I enjoyed that a lot.
What advice would you share with UH students, or aspiring theater artists?
Oh man, I'm so bad at advice! I guess I might say that I have found what modest success I have not thinking about some grand end goal, but rather following a path, taking every opportunity to practice my craft, work on something new, and learn from what I have done. Coming back to UH, I couldn't help but still think of myself as a student too; there are so many lessons left to glean!
Know a Cougar we should profile? Contact us at lunarcougar@uh.edu! To read more great alumni and donor profiles, or to make a gift to UH, visit the University Advancement home page.