Mary Shekari ('05)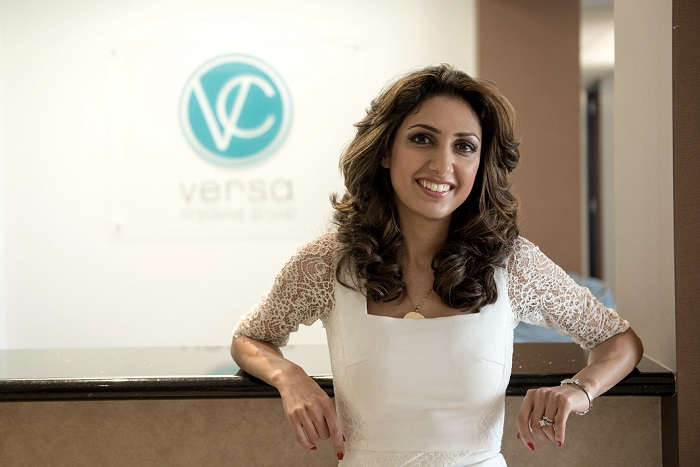 Mary Shekari ('05) majored in Graphic Design at UH and is the Founder and Principal of Versa Creative Group, a full-service advertising, marketing, and design firm in Houston that delivers customized strategies and solutions to clients. Originally from Iran, Mary has called Houston home for many years and knew it was the perfect place to receive an education and raise a family.
Why did you decide to found Versa Creative Group — what's the origin story?
As long as I can remember, I've always had a passion for marketing and advertising. I suppose it was the stories that attracted me the most; every brand has such a unique and dynamic narrative to deliver to their audience. In the end, it was my mother who inspired me to fulfill my dreams and found this company. Over the years, it's grown into something truly special — a full-service marketing and design firm with a distinct culture I'm proud to be a part of. As I reflect on this unique and versatile company, I am thankful I have the opportunity to foster an agency that attracts some of the most talented and energetic people in the industry.
What has been the most rewarding and most challenging aspects of owning your own firm?
First and foremost, the rewards have always outnumbered the challenges. I've had the good fortune to work with some of the most spectacular brands under the sun, from Fortune 500 tech enterprises to small businesses. Perhaps the greatest rewards come from the distinct relationships I've built with my clients. And as for the challenges, I can't say it's easy to raise two beautiful children while running such a multitasking marketing firm.
Can you think of a favorite campaign you have worked on as a designer, or at Versa? Why was it your favorite?
Over the years, I've had the pleasure to work on numerous impactful campaigns. A significant endeavor that comes to mind is the grand opening of a Sun & Ski location in San Antonio. We developed a complete six-month strategy playbook to ensure a smooth and lucrative opening. From graphic designing to copywriting, and media buying to PPC developments, our team worked seamlessly together to deliver comprehensive content through a complex and holistic approach.
What was the defining factor in your decision to enroll at UH?
The University of Houston is well-known for having an exceptional Graphic Communication program and a well-respected faculty. I knew that if I truly wanted to excel in this field, I needed to submerge myself alongside Houston's most talented and knowledgeable professionals.
How do you use what you learned at UH in your life now?
As I look back upon my experiences and education at the University of Houston, I find myself truly humbled. The professors, the students, the endless hours of dedication — all merged together to help develop a mature and pragmatic individual. A day rarely goes by where I do not draw upon those critical years of my life. They taught me how to be a leader, to strive for excellence, and most all, to follow my dreams.
Did you have a favorite professor or class at UH, or any other favorite UH memories?
With so many exceptional faculty members, I find it difficult to select one over another, but the professors that come to mind are Fiona McGettigan and Sibylle Hagmann. I have managed to stay in contact with them for more than 11 years, and I am always overjoyed to see them when I attend the yearly University of Houston Graphic Communication Senior Show. My own senior show in 2005 is one of my most treasured UH memories, one that I will never forget; not only was it my first major public display, it served as a benchmark for the quality of my work to come.
What is your impression of UH's future and President Renu Khator's vision?
Needless to say, President Renu Khator is a powerful woman and is nothing short of a remarkable role model for young minds. She has continued to nurture a diverse community of not only exceptional thinkers but determined leaders. Her goal of having the University of Houston become a nationally recognized institution in the 21st century is not only a noble feat, but a sincere effort of unity throughout a country that's blessed with diversity. I feel as though she will set a grand example for the generations to come — an example that draws from love and unification, rather than fear and division.
What do you like best about living in Houston?
What's not to love? The culture, the food, the atmosphere — Houston has something to offer everyone because it's endowed with such rich diversity. Alongside its marvelous museum district, its greatest attributes are perhaps the multicultural experiences it provides. This city is also a place of opportunity; a place where your dreams are shaped and defined by your own hard-earned accomplishments. I will always be proud to call myself a Houstonian.
What advice would you share with current or prospective UH students?
Be your own best advocate — your strongest critic. Many wondrous things are derived from some form of conflict, whether it is external or internal. But, this should not discourage you. In the end, you navigate your own path, and failures are but an opportunity to further map that journey. And last of all, dream boldly. If there's anything worth doing, it's worth doing with immeasurable amounts of courage.
Know a Cougar we should profile? Contact us at lunarcougar@uh.edu! To read more great alumni and donor profiles, or to make a gift to UH, visit the University Advancement home page.