Jennifer ('06) and Brian Royo ('06)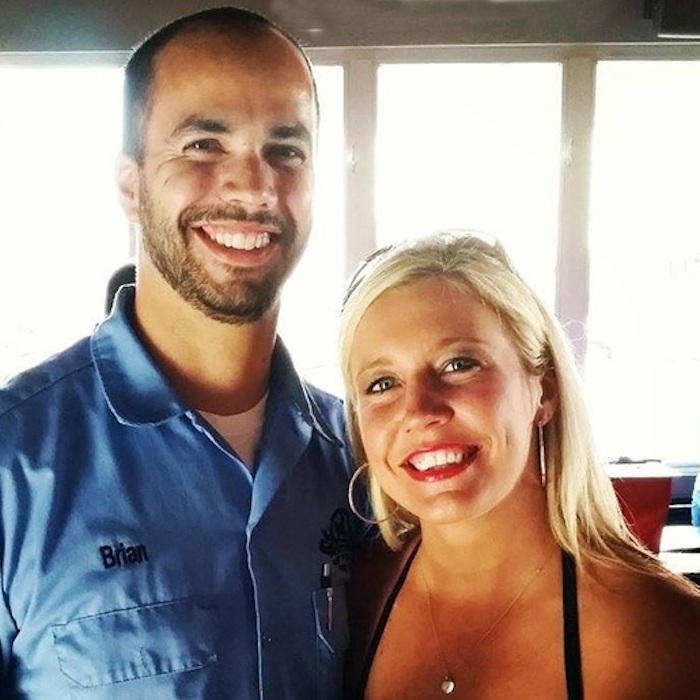 Jennifer ('06) and Brian Royo ('06) met while students on the University of Houston campus. He proposed at the A.D. Bruce Religion Center and a year later, they were married there. Once a construction management major who worked with a general contractor, Brian now has 17 of his own employees at No Label Brewery. It is only the third local brewery to open in Houston. Brian and Jennifer share with us how their path from UH ended up in a delicious, although sleep-deprived spot (they have a booming business to run and a seven week old newborn at home!)
How did you go from undergraduate study to owning your own brewery?
Brian Royo: Growing up, I loved taking things apart and putting them back together—I loved working with my hands. After graduating with a construction management degree from the College of Technology, I got a good job with a general contractor. One day, a friend bought me a home brewing kit. I fell in love with brewing and my dad was helping me home brew. My dad and I knew there were only two breweries in Houston at the time and a project I was working on was coming to an end. My construction job wanted to move me to Beaumont and I wasn't too keen on the commute. The timing just worked out – and I opened No Label Brewing Company with my parents and wife.
How do you see No Label Brewing Company growing in the coming years?
Jennifer Royo: No Label has a few tricks up our sleeve that I can't divulge right now, but it's going to be very exciting for us! We are currently working on upgrading our taproom – there are lots of improvements this year and next! I hope to see more exciting events at our brewery in 2017.
Where did the "No Label" name come from?
BR: It's really a twofold answer. One, is that I always just had this bad habit of pulling the labels off of beers that I was drinking. The other reason is that my wife and I have sort of a "no labels" mentality when it comes to our friends. We like and know people from all walks of life. We don't like to pigeonhole others. So, "No Label" made sense as a name for our brewery on the day it came down to signing the papers.
What is one of your favorite beers these days that No Label brews?
JR: My favorite No Label beer is our Pale Horse Pale Ale. My close second favorite is our El Hefe Hefeweizen.
BR: Our seasonal winter brew, Elda M., a milk stout, is one of my favorites. The name has an interesting story behind it. The Elda M. was the name of a boat my mom was practically raised on, while her father was stationed with the Navy in Panama. The boat was sold to a man who changed the name of the boat once he purchased it – which is considered bad luck. Within a short amount of time, the boat capsized and the Elda M. was no more. Many years later, my mother's friend was walking along a beach and the name plaque from the Elda M. washed ashore! That was a huge coincidence and after the friend returned the plaque to my mother, she had it framed for the house.
How do you use your degree from UH in your everyday life?
JR: I graduated from the Conrad N. Hilton College of Hotel & Restaurant Management. My degree taught me a great deal about customer service and how to market oneself. Self- promotion has been an extremely important quality since I've been with No Label.
BR: Construction management was really a multi-faceted major that taught scheduling, accounting and math, as well. I really learned how to manage a project or a business through my degree. Some of that knowledge of construction has also helped me with installations and upgrades at the brewery.
Did you have a favorite professor or class at UH?
JR: My favorite professor was Kevin Simon. Unfortunately brewing was not a class when I was in school, but Kevin taught a Wine Appreciation class that I enjoyed. The lecture was very informative and actually pretty hard. I really liked learning about wine and how it was made.
BR: My surveying professor, Thomas Massey, was very old-school; very strict, especially with writing. I needed that structure.
What advice do you have for current UH students?
JR: The best advice I have for current UH students is to enjoy every moment. It goes by so quickly. Keep the relationships you create after college. It's always nice to meet other alumni after all these years – make friends and meet them up for coffee or beer!
BR: To add on to Jennifer's answer, I would say "Take your time and enjoy school." And try to create relationships with professors – they have a lot of connections and can help you out further down the road. I really think I would emphasize the importance of how to network to a current student.
What do you like best about the city of Houston?
BR: I've lived here my entire life. I like the choices of good food everywhere in Houston. There are a lot of different cultures and people to come into contact with.
What are your hobbies?
JR: My hobbies include playing basketball and co-ed soccer, watching football, enjoying craft beer from all around Houston and spending time with our two kids.
BR: Sleeping! Actually, we have a seven week old baby, so that's not really an option. There's really not a lot of time for a hobby when you own your own business, time off is very rare. But Jennifer and I do like to go out, when we can, and try new craft beers.
Know a Cougar we should profile? Contact us at lunarcougar@uh.edu! To read more great alumni and donor profiles, or to make a gift to UH, visit the University Advancement home page.