Filo Castore ('99)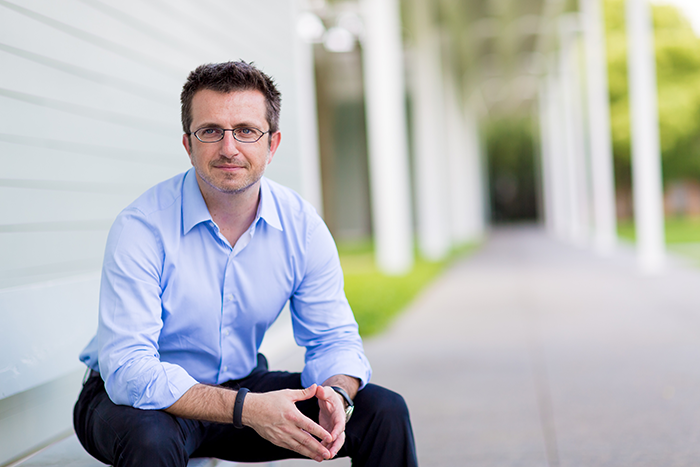 Filo Castore ('99) came to Houston from Italy for his education at the Gerald D. Hines College of Architecture and hasn't looked back. He is heading up a Houston branch of DLR Group, an architecture and engineering firm that was responsible for TDECU Stadium and its beautiful downtown Houston view, and the new basketball practice facility: the Guy V. Lewis Development Facility.
LUNAR COUGAR: Tell me a little about the Houston DLR Group; when did you join?
FILO CASTORE: The DLR Group is an international architecture and design company, 50 years old. It was started in the Midwest. In early 2015, I was approached and asked to open a Texas office in Houston. The University of Houston has been our client on several projects, including TDECU Stadium and the Guy V. Lewis Development Facility. Since I am a Cougar alumnus, I was happy to join and was excited to try to initiate more projects involving UH.
What convinced you to attend Hines College for your education?
My father was in Houston in the 1970's, and he had accepted a temporary position teaching at UH. In the 1990's, I decided to leave Italy, where I was born, and the Gerald D. Hines College of Architecture was at the top of my list. It had a practical approach and was tight with the industry in Houston. The economy was growing in Texas and the caliber of professors at Hines College was really well-known. The professors taught and practiced architecture — they were connected to the real world. That made it an easy choice.
How do you use your degree from the Hines College to implement sustainability in your designs?
Design is not just a "pretty picture"; how it works is just as important as how it looks. The Hines College helped me hone my expertise in sustainable design. For instance, there was collaboration between the structural professors, the building systems professors and the design professors.
Can you recall a favorite professor or class at UH?
I had two favorite professors in my early years at the Hines College: Geoff Brune, a design professor, and Leonard Bachman, a systems professor. Both were instrumental in determining my approach to design.
How do you describe your approach to design?
Because of my upbringing in Italy, I believe, I have a more holistic, integrated approach to architecture and design. It's not preconceived. It's more about community problem-solving.
What advice do you have for current UH students?
It's important for students to stay curious and to ask a lot of questions. It's also important to stay engaged with the real world — bringing the profession into the college is important and the Hines College does a great job of it, but you can always do better. Also, try to work at as many internships as you can during your time at the College, to get that real world experience.
Have you been back to campus recently?
Yes! I have been to TDECU Stadium, the Hilton on campus, and the College of Architecture. I'm very excited to see what will be happening in the Cullen College of Engineering, as well.
What do you like best about the city of Houston?
Houston is the quintessential 21st century city — it's always projecting into the future. It innovates and always tries to improve itself. And if you've got a good idea, you've got a shot in this city — that's the beauty of the culture here.
What are your hobbies?

I enjoy photography and biking. Anytime I can take photos or ride a bike, it's a better day!
Know a Cougar we should profile? Contact us at lunarcougar@uh.edu! To read more great alumni and donor profiles, or to make a gift to UH, visit the University Advancement home page.