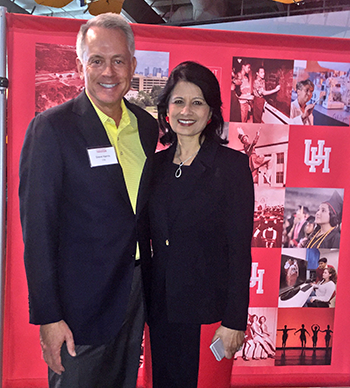 The Cougar spirit was soaring at Dallas' Frontiers of Flight Museum on October 19, and one alumnus was particularly moved by the high-flying event. Steve Harris ('79) had barely had any contact with his alma mater since graduation, but one of his first actions after returning from the night out was to become a Life Member of the University of Houston Alumni Association.
"After hearing President Khator's vision for the University, I was hooked," he said. "Her vision to make us a Tier One school in athletics and academics, along with starting new programs like a medical school, struck a chord with me. I like the way she dreams big!"
¬Steve was able to chat with President Khator at the event, and appreciated the format that allowed mingling with fellow alumni over appetizers and drinks between speeches and presentations.
It was his UH experience that set him on a successful career path, drawing inspiration from marketing professor Dr. Richard Ennis at the C.T. Bauer College of Business. After only three years at UH, Steve completed his bachelor of business administration degree and began his career in sales and marketing, eventually advancing into management and partial ownership of a large medical supply company. Now retired, he enjoys golfing and volunteering, helping Hispanic children learn English and providing high school seniors with career and educational guidance.
After the Dallas event, Steve has a new item on his retirement agenda: getting more involved with the University of Houston. By becoming a Life Member, his gift already supports student success by funding Legacy Scholarships, and he and his wife will visit campus soon to attend a football game for the first time in 20 years. He encourages other alumni to stay up to date on what is happening on campus: "At least attend one event, and catch the vision of what UH could be!"