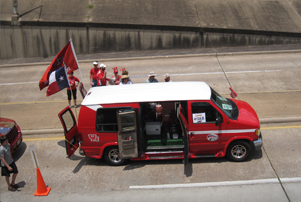 By day, they are business owners, CPAs, marketing and energy managers, and controllers across Houston. By night and on weekends, they are the creators and driving force behind the University of Houston Art Car Parade Ford van, officially known as the "Super Cougar GT SS 500 Unlimited Limited Edition." What's that spell? Cougar Alumni Pride.
"The best part was buying the van," says Jarrett Henderson (BBA 2006, MBA, 2012). "There were about 12 of us looking to provide a serious upgrade to our tailgating during the 2012 UH football season. The best part has been seeing our tailgate and UH season ticket crew grow from just three of us back in 2003 to the group we have today."
Houston native Seth Showalter, who is not a UH alum but is an "adopted" Cougar, puts the story in gear.
"Most of my friends are UH alumni, so we got together and thought about the best way to improve the tailgate parties that we religiously host before the UH games. We found a 1999 van on Craigslist in Kemah, and a few hours later we were back home with a $1,000 investment in the best tailgating football season ever!"
The crew revamped the van with an A-Team inspired custom paint job, laid astro turf across the rear interior and installed a Snap-on kegerator donated by Mike Green, UH alum and owner of a Snap-on Tool franchise. Ryan Wehmeyer (BBA, 2004) hopes a future upgrade will include a tap pull that growls like a cougar every time a beer is poured.
After the final season in Robertson Stadium, Seth Showalter entered the Super Cougar van in the Art Car Parade in May 2013.
"I mostly love what the van stands for – friendship, teamwork, camaraderie and great times," he says. "It was a natural for the parade."
The Super Cougar does not have a sponsor, and the group is open to one. The friends have covered the costs of transforming the UH van out of their own pockets, and they have dreams for the future.
"A spoiler, a PA system, a swing out grill," lists Kris Kehlenbach, (BBA, 2010, MBA, 2012). "It's an ever-evolving project that lacks no imagination."
Cougar pride runs deep throughout the crew.
"My grandfather was an active alum, and every time we drive this van on the streets of the UH campus, I know we make him proud," says Wehmeyer.
That pride is being passed on to the next generation. Mike Green, who attended UH for two years before he became a single dad, agrees. "My son is now 12 and he dreams of playing basketball for UH."
Richie Baskharone (BBA, 2005) sums it up. "Great campus, great university; it's on the rise."