Protecting the Interests of the American Middle Class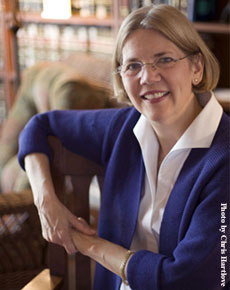 After growing up "at the ragged edge of the middle class," Elizabeth Warren has a special affinity for those she considers the "moral heart" of America.
That's why the UH alum, who served as chair of the Congressional Oversight Panel that oversees the $700 billion U.S. banking bailout, called for creation of a consumer financial protection agency to repair the market for those struggling to maintain a hold on the American dream. On Sept. 17, 2010, Warren was named by U.S. President Barack Obama to serve as the Special Assistant to the President and Special Advisor to the Secretary of the Treasury on the Consumer Financial Protection Bureau — the very agency she proposed.
"I believe the middle class is America. It is the economy, it is where we produce our goods and services," Warren said. "I believe the middle class is the moral heart of America … and I am deeply, deeply worried about middle-class America."
In her new role, Warren will help to develop a new government agency aimed at clamping down on unfair, deceptive or abusive financial practices.
The high-profile position will give Warren a new platform to argue for consumer rights — something she did frequently as chair of the Congressional Oversight Panel, where she was tasked with reviewing the actions of the U.S. Treasury Department and the Federal Reserve and monitoring what happened in the economy as the bailout money was spent.
"Part of what we [did] in the Congressional Oversight Panel is … talk about the kinds of rules we need going forward," she said. "Part of what I keep pushing for is to evaluate those rules in terms of their impact on middle-class families, on jobs, on small businesses."
Her work with the panel earned her a spot among Time magazine's 100 most influential people in 2010. Warren, the Leo Gottlieb Professor of Law at Harvard University, also was named one of the most powerful women in the world by Forbes magazine, and was suggested as a potential nominee for the U.S. Supreme Court.
Though her career focus has changed since she was a communication disorders major at the University of Houston, Warren said she still relies on some of the skills she developed as an undergraduate.
For instance, Warren remembers a particularly interesting class she took with Professor Genevieve Arnold on the diagnosis of learning disabilities, which taught her how to do a step-by-step analysis of a problem.
"It was the single, deepest, most engaging class I took at the University of Houston. It actually turns out it was enormously helpful when I went to law school, and now that I am teaching in law school," she said. "It became integrated into my brain, and is part of how I think about almost any hard problem."
The undergraduate experience taught her to be proud of her accomplishments and the hard work it took to achieve them.
"I think the thing I was the most proud of was really buckling down in hard classes," Warren said. "There were teachers who would encourage me, who would throw out a lifeline when I needed it, but also who would let me go as hard as I could on my own and accomplish as much as I could. At the end of my classes, I felt a real sense of 'I've done something here.'"
Just eight years after graduating with a bachelor's in communication disorders, Warren was back on the University of Houston campus – this time as an assistant professor at the UH Law Center, where she became "one of those young, enthusiastic teachers that I had as an undergrad."
Warren taught at UH from 1978 through 1983, taking the time to learn from other, more experienced professors.
"It was my first teaching job, and I was taught by the more senior members of the law faculty," she said. "John Mixon in particular would take me out to lunch after my contracts class three days a week, and we would sit down and talk about what happened. It was only a couple of years later that I realized he was really teaching me how to teach."
Now, as a professor at Harvard, Warren said she still loves teaching.
"I think the best part about working with students is you get to relive the incredible joy of experiencing new experiences," she said. "I get to watch and participate as the light bulbs go off, as people make connections they have never made before, as they start to have new insights they haven't had before."
In addition to her teaching, Warren is a prolific writer, having written more than 100 scholarly articles and multiple books, including two she wrote with her daughter, Amelia Tyagi: "The Two-Income Trap: Why Middle-Class Mothers and Fathers are Going Broke" and "All Your Worth: The Ultimate Lifetime Money Plan."
She also has made multiple appearances on television programs such as "The Daily Show with Jon Stewart" and "Dr. Phil," as well as appearing in Michael Moore's documentary, "Capitalism: A Love Story."
The interviews and television appearances are intended to spread her message about the need for financial reform to all Americans.
"Frankly, I just started saying 'yes' as much as humanly possible. When reporters called, when the movie makers called, when "The Daily Show" called, if I could, if it was possible to fit it into the schedule, I went and talked," she said. "My view was I could reach another audience. … I was trying to give Americans everywhere at least a little piece of information so they could participate in a really important national conversation."
Warren said she wants to see more Americans engaged in the discussion about the economy and financial regulations.
"The decisions we will make in the next few months about our economy and what the rules are going to be going forward will shape what we are as a country for the next century," she said. "The only way that Americans' interests are really safeguarded is if more Americans understand."