Natalie Powell (M.S.W. '14): Presidential Management Fellow and Social Justice Champion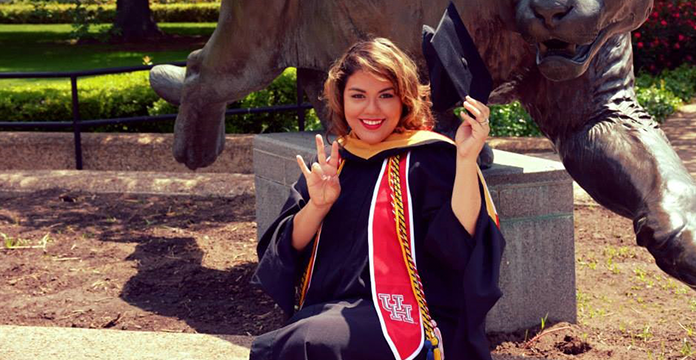 by Sarah F. Hill
Applying for the Presidential Management Fellowship (PMF) Program is not for the faint of heart. The first requirement is a graduate degree. Then, one takes a personality test with a writing portion that requires the applicant to complete multiple essays. It goes on to include hours of in-person interviews and, eventually, the number of applicants is whittled down from 7800 to 600. This past year, one of those 600 was Natalie Powell (M.S.W. '14). Only then was she able to apply for a job as an analyst, making policy and budgetary recommendations for the federal executive branch of the U.S. government. For Powell, that included another exhaustive online application process followed by several interviews, some on the phone and some via Skype. She was finally awarded a two-year fellowship with the U.S. Department of Health and Human Services (HHS) in Washington D.C. This program fast-tracks young professionals and allows them to work, not at the entry level, but as advanced degree-holding experts in their respective fields.
It is uncommon for the PMF program to accept social workers, yet so important. "The federal government is acknowledging that social workers have a unique perspective and are apt to understand how policies impact real people, every day," says Powell. The rich experience she garnered at the UH Graduate College of Social Work (GCSW) made her a perfect candidate for this challenging work in a specialty known as macro social work. Macro social workers focus on changing larger systems and deal in a variety of areas, such as policy, administration, and community organizing, instead of working in clinical settings. "I knew coming into the GCSW what I wanted to do (macro social work) and UH gave me the skills to achieve my goals."
During her first year in the M.S.W. program Dr. Suzanne Pritzker helped Powell attain an internship with the Texas House of Representatives. This internship gave her the skills necessary to advocate for real policy changes. At the GCSW, Powell's projects and research centered on immigration reform and advocacy for undocumented families. Her passion for this issue stems from her family who immigrated from Guatemala and El Salvador seeking to provide a better future for her family. "This issue is very personal to me," Natalie admits.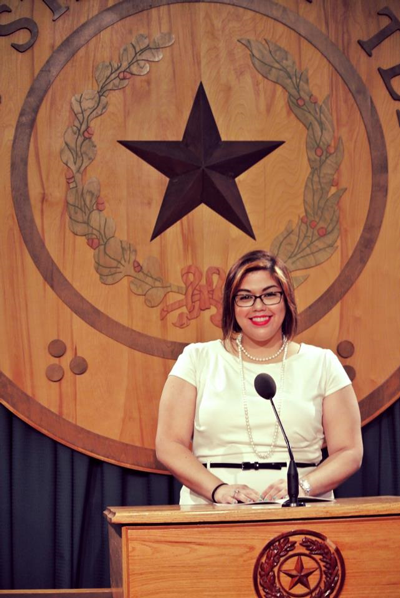 You may have read one of Powell's op-ed pieces on immigration, either for the Houston Chronicle or The Hill, out of Washington, D. C. Both were written during her tenure at the GCSW. When not advocating for those less fortunate, she is literally helping out at the ground-level, volunteering at shelters and hearing immigrants' stories. "Families from Central America come to the U.S. with nothing – but they have no other choice. The other choice is certain death from violence," she explains. And around campus, she found a way to give back, as well – by working for the Center for Student Involvement. "The most important thing I learned during my time at UH is that one individual can make a difference and my dedication to social justice wasn't a distant dream, but an achievable goal," says Powell. "This theme was present in every course and internship provided to me. Each small triumph towards this goal was celebrated and recognized."
While her career is on an upward trajectory, this "triumph" she feels is sometimes overshadowed by the needs and the vulnerability of populations in U.S. cities and throughout the world. "Globally and in the U.S., access to basic rights are withheld daily. As a social worker, I see the struggle to uphold and equally provide these rights as the most important issue in our society. In my work I've witnessed the violation of these rights in many forms, including human trafficking, homelessness, and lack of access to drinking water, affordable healthcare and a fundamental education. I've also witnessed a broken immigration and justice system," she explains. "I believe if each person takes a small step towards establishing these rights we can make a big difference. What you do matters."
With the same intensity she approaches her important social justice work, Powell enjoys the outdoors. Powell moved to Alaska after her husband, who is also a PMF, received an appointment in 2014. She loved hiking Mt. Alyeska and being out and about in nature. She also enjoys all matter of creative endeavors, such as drawing and painting. She is now on her way to Washington, D.C. for the next chapter in her busy life. That's not to say she doesn't miss some aspects of Houston. She called Humble home for the majority of her life, and, after joking that she misses the food in Houston most of all, she says of the city: "It's such a dynamic place. People in Houston come together as a community and support each other."