Mable Wan and the Bauer Excellence Program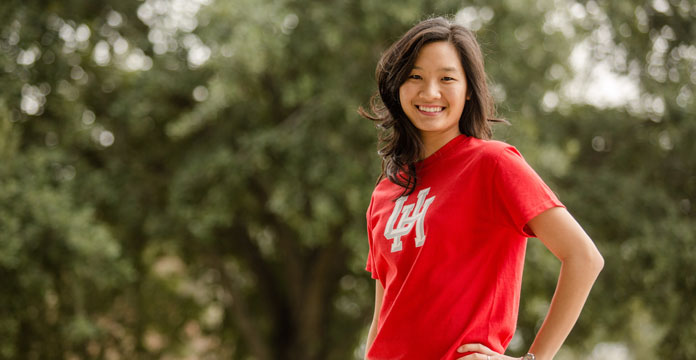 The Bauer Excellence Scholarship has given more than financial freedom to Mable Wan, an undergraduate student in the Wolff Center for Entrepreneurship at the University of Houston—it's made her feel like family. "It makes me realize that they've invested in me and what it really does is make me want to give back to Bauer–after I graduate and even now."
Wan was just a young high school student when she first googled "entrepreneurship programs" and was instantly drawn to the Wolff Center for Entrepreneurship for its incredibly high national ranking. It instantly became her dream to attend the nationally recognized program. At Bellaire High School, Wan was in the top 10 percent of her graduating class, and was prepared to go to a different college—one that provided her with a full scholarship. University of Houston countered with the Bauer Excellence Scholarship and Wan wholeheartedly accepted it. "I wouldn't be here without the Bauer Excellence Initiative," says Wan.
Wan firmly believes that financial burdens take a toll on one's education. "The scholarship has given me financial freedom for these four years–the luxury of pursuing any interests I have without worrying about paying for a roof over my head," she reflects. "This really makes a difference because I'm basically experimenting with ideas without the fear of failure." Without worrying about her housing and tuition obligations, Wan has had the ability to concentrate fully and impressively on her studies.
Wan's plan is to work for an accounting firm after becoming a CPA. "Experience in the industry," she says, "will give me a better chance of succeeding when I start up my own business." Her aspirations are sure to become reality because of her truly remarkable dedication and hard work.