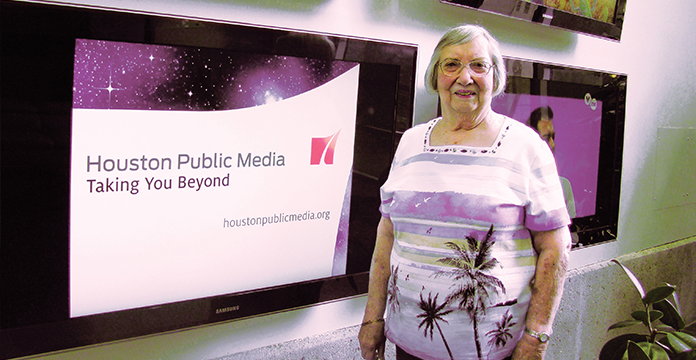 The early 1950s were a transformative time for native Houstonian Ouida Jo Hembree ('49). She had recently graduated from the University of Houston, started her first job and moved into her own apartment. That was the same time that KUHT, Channel 8 — now operating under the name Houston Public Media and TV 8 — became the nation's first public television station in 1953. "I was just getting started into my big life. I started when it started," she recalls. TV 8 has been her preferred channel ever since. "I didn't even care about cable. I did finally get it, but I still watch TV 8 most of the time." Hembree, in addition to her annual gifts to TV 8, has further solidified her bond with the station by establishing a charitable gift annuity to support Houston Public Media and its public broadcasting service that has grown with her over the years.
Owning a television in 1953 made her especially popular among friends. "I was the first one in my group of friends to get a TV; I got a TV before I got a car," she says, describing the 12-inch screen on the black and white set. "I was in a one-room efficiency apartment and about seven or eight people would come over — some of them would have to sit on the floor. It was a social thing." Now, she enjoys TV 8's documentaries, the annual Fourth of July broadcast and Rick Steves' travel commentaries on Europe. Her favorite shows, however, are the classic British comedies that play on TV 8 on Saturday nights, such as "As Time Goes By" and "Keeping Up Appearances." "You can't find those anywhere else," she says. "English humor can be a kick."
Hembree remarks on the educational value of the station, as well as her viewing choices when she first bought her TV, which may be perceived as odd to some: "I'd watch the school board meetings with my mother — people must have thought we were crazy!" she laughs. "But they were comical to us because our company did a lot of construction on schools." Hembree's first job after graduating from the University of Houston was as the receptionist and errand runner at Marshall Construction Company, Inc. — still in business today — where her mother was the office manager. One of her jobs was to drive to construction sites to distribute payroll, and she also chose to get her commercial license so she could transport construction materials.
It was her mother who paved a path for Hembree to attend the University of Houston, in addition to leading her to that first job. "I hadn't given any thought to going to college when I was in high school," she says, although she did have many extracurricular activities, such as working on the yearbook and assisting athletic coaches. Her mother learned about a full scholarship from her doctor's wife, who was a member of the Houston Assembly of Delphian Chapter, and Hembree was granted a scholarship from the Delphians after applying. But she found that she had not taken the right courses in high school to qualify for most college entrance standards, since college hadn't been in her plans. "I hadn't had any foreign language, and I had bookkeeping instead of algebra and geometry," she explains. "But back then, UH didn't have the same requirements." UH had not even been operating for 20 years yet and was dedicated to providing training to Houston's workforce, many of whom were recently-returned WWII veterans.
That type of student body made "the college experience" very different from what the phrase typically means today. When Hembree attended UH, the Science Building and Roy G. Cullen Building were the only permanent structures on campus at that time, and most of her classmates were veterans who were working to provide for their families. Students like Hembree, however, enjoyed Cougar mainstays like Frontier Fiesta and basketball games. The classroom environment was very different, too. "We had to team up with a partner in our statistics class because they didn't have enough machines to go around," she recalls. Given her lack of algebra training at the time, she lucked out with her partner assignment: "He was one of the math teachers who was taking the course because he was going to teach that course in the fall. So, I was good on the calculator — these big, 1940's machines — and he could do the more involved algebra. We were a good team." Hembree graduated with her bachelor's degree in business administration in 1949, with her tuition, books and campus activity fees covered by the Delphian chapter for her entire tenure. "I felt obligated to them to study hard and get good grades, and I'm still in touch with the chapter," she says.
Hembree stayed at her first job for five years — "the only advancement would have been to my mother's job, and I couldn't do that!" — before starting at Exxon Mobil (then Humble Oil) in 1955. Her aunt had married a manager there, so it was almost a family institution at that point, but Hembree applied independently to the company and began her career as a statistician in the geology department. "But statistics requires so much estimating," she says, "and having been trained in accounting, where you have to account for every penny and keep everything in balance, it bugged me to work only in estimations." She ended up moving to the marketing department at Exxon's headquarters, where she could work with hard numbers on pricing oil products, such as gasoline and heavy fuel oil to power factories and plants. She retired in 1983, after 28 years of service, citing traffic as one motivator, a sentiment all Houstonians can understand.
Exxon matches Hembree's gifts to Houston Public Media, as well as the Tier One Scholarship Endowment she established to provide scholarships for incoming freshman students at the University of Houston. "Since I got my education on a scholarship, I wanted to help someone else do the same thing," she says. She encourages her friends at Exxon and at other companies to take advantage of matching programs. Her dedication to Houston Public Media echoes that desire to keep the programs she loves on the screen, and continue the tradition of excellence: "We've got to keep them going!"