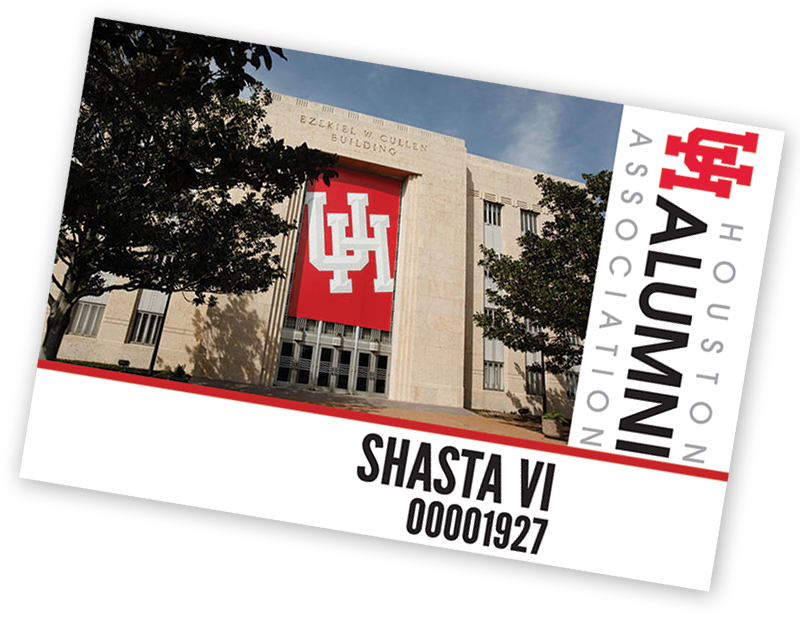 Really, I'm getting carded? Well, not like that. We're talking about your new University of Houston Alumni Association (UHAA) alumni card.
What is the Alumni Card? The Alumni Card is an exciting way for you to receive all the benefits of being a UH graduate. This physical or digital card identifies you as a member of UHAA. All graduates are already UHAA members and are eligible to use the card!
How do I use it? Staff will be present at UHAA events to scan your card. If you have a digital card, you can save it on your smart phone for easy access, or print it out. Also, visit houstonalumni.com/alumnicard for more information about participating vendors who give great discounts to graduates with the card.
Why do I need it? 1) To access on-campus benefits at the Campus Recreation and Wellness Center, University Libraries and the UH Bookstores; 2) to access benefits offered by our affinity and corporate partners; and, 3) to have expedited entry into UHAA events, such as Party on the Plaza prior to every home football game. There will be a special entrance for graduates who have their alumni card with them.
How do I get my card? You should have received an email by September 1, 2016 with instructions on how to download and use the card. Once you have your card, you can begin to enjoy Alumni Card benefits. Future graduates will get their cards following graduation. If you haven't received your card or have questions, contact alumni@uh.edu.