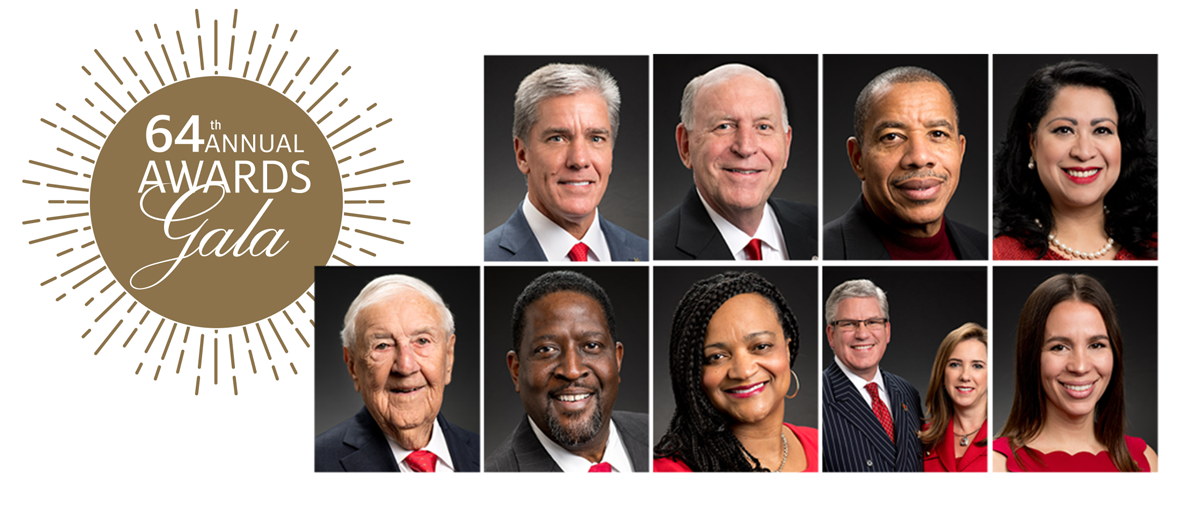 Could one well-answered question tell the world who you are? Perhaps not. But if answered with passion and honesty, it may shed light on how you've navigated life's journey.
Each year, the University of Houston Alumni Association celebrates alumni who are making outstanding strides in their career and community. This year, we are celebrating 10 dynamic alumni who share a passion for life and their alma mater.
We asked the 2018 honorees one question each, ranging in content from their life philosophy to their personal achievements – and at times, simply about where their passion lies. We invite you to get to know each of the 2018 honorees in our One on One.
---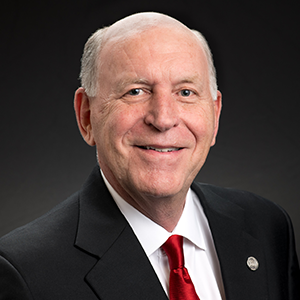 Spencer Armour ('77)
Distinguished Alumni Awardee
Spencer Armour currently serves as chairman of ProPetro Holding Corp. (Symbol: PUMP) and president of PT Petroleum LLC. In 2011, Governor Rick Perry appointed Armour to the UH System Board of Regents, where he served for six years. While at the University of Houston, Armour was active in Pi Kappa Alpha Fraternity. He graduated from the University of Houston in 1977 with a Bachelor of Science in Economics. He and his wife, Rebecca Armour ('76), will celebrate their 42nd wedding anniversary in July 2018. They have two children: Emily Arizaga Serold and Spencer "Davis" Armour IV., and four grandchildren.
Q: What's been the single best lesson that you've learned in life?
A: My first job, after graduation, was working for a large, multinational company. Less than one year into my employment, a large number of my co-workers and I were laid off. I mistakenly thought I would find job security by working for a large company. I was fortunate to learn early in my career that things beyond my control could change abruptly! From that point forward, I focused on the things I could control. Having a positive attitude, being a proactive problem solver, taking on more responsibility, improving my skills and being a good teammate were all things that helped me build my own "brand." That way of thinking has served me well throughout my career. Focus on the things you can control, not on those you can't.
---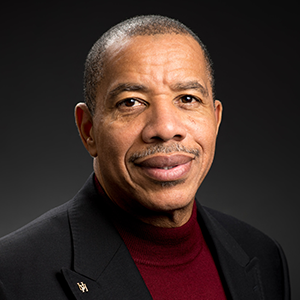 Otis Birdsong ('77)
Distinguished Alumni Awardee
Otis Birdsong is known as one of UH's most decorated basketball players of all time. He was selected second overall in the 1977 NBA draft to the Kansas City Kings. He spent 12 seasons in the NBA and appeared in four NBA All-Star Games. On October 20, 2014, in Fort Worth, Texas, Birdsong was inducted into the Southwest Conference Hall of Fame.
Today, Birdsong is the founder of Ball Stars Youth Camps – an organization that provides summer basketball camp experiences to underserved youth in his home state of Florida, New Jersey and nationwide.
Q: How has your experience at the University of Houston affected your life?
A: I've always tried to represent the University of Houston with dignity and class, on and off the court.
My experience at UH has changed the course of my life, and has afforded me lifelong friendships that I value still to this day. Coach Lewis, my teammates and the coaching staff really molded a young man from Florida into a mature man. I finally understood what I wanted to be and how I wanted to get there. That's a blessing, to be able to have that kind of guidance. That's the leadership we had at the University while I was there, and we also have it now. It's always a great time to be a Cougar!
---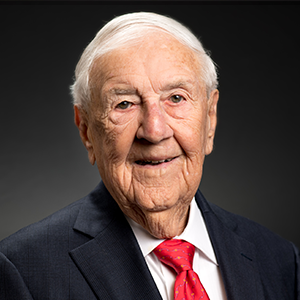 James H. Greer ('54)
Distinguished Alumni Awardee
James (Jimmy) H. Greer graduated from Lamar High School in Houston, Texas, in 1943. He attended Texas A&M University briefly before entering the United States Naval Reserve in 1944, where he served for two years. Greer graduated with a Bachelor of Science in Civil Engineering from the University of Houston in 1954. He has enjoyed a diverse career in commercial construction, banking, real estate development and management. His extensive background in commercial construction includes being a founding director of Baker Metal Products in Dallas, and founding partner of Haley-Greer from 1979-1995. Greer was chairman of both Shelton W. Greer Company and Vermiculite Products, Inc., from 1985 to 2001. He is also a former Regent for the University of Houston System.
Q: What have you been the most satisfied about in your life?
A: I am most satisfied in my life for having been married nearly 52 years. I met her (Dot), when I was racing boats with my brother, Jack. The secret to many years of marriage is learning to have a work/life balance, which Dot helped maintain — while having a heck of a lot of fun!
---
Dr. Laura Murillo ('89, M. Ed. '98, Ed.D. '03)
Distinguished Alumni Awardee
Dr. Laura G. Murillo holds a bachelor's degree in journalism, a master's degree in education, and a doctoral degree in education from UH. In 2017, the university bestowed its highest honor, The President's Medallion, to Dr. Laura Murillo and the Houston Hispanic Chamber of Commerce, where she serves as president and chief executive officer. The youngest of nine children, she was born to Mexican immigrant parents and raised in Houston's East End. She is the proud mother of Marisa and Mia. Marisa is in her first year at Columbia University and Mia is a sophomore at St. John's School in River Oaks.
Q: For the people whom you admire most, what are their key traits?
A: I admire people who are impactful. They serve in the interest of others and for the betterment of others. They are fearless! I was fortunate to work alongside one of my mentors, Dr. Tatcho Mindiola, a UH professor. I saw him open doors. He has served as an inspiration to me. His impact and legacy are commendable. I aspire to do my part via people, passion and persistence.
---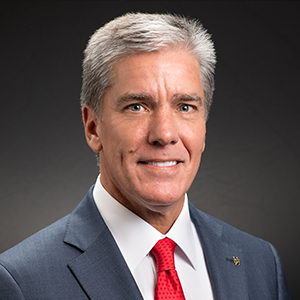 Marvin Odum (M.B.A. '95)
Distinguished Alumni Awardee
Marvin Odum is a native of Houston. He retired recently as the chairman and president of Shell Oil Company and executive committee director for Royal Dutch Shell. After the devastating floods from Hurricane Harvey, Odum agreed to lead Houston's recovery efforts by special request of Mayor Sylvester Turner. He is leading a team charged with executing the multi-billion-dollar reconstruction of city infrastructure and housing, including critical flood mitigation projects and policies to strengthen the City's resilience to future disasters. He and his wife Mariloli were married in 1984. They have three children: Lauren, Marvin IV and Taylor. They are also blessed to have one grandchild.
Q: What do you consider your most profound learning experience:
A: Every day is an opportunity for profound learning, but as I look back, some of my most poignant learning experiences included:
Being an exchange student in Japan where I had to learn what it means to communicate other than with language;
Having our first child when many of my previous perspectives just didn't apply anymore;
Running a multi-cultural/global business and truly recognizing what motivates people can vary dramatically; and, most recently,
Understanding the depth of need in our community through our Hurricane Harvey recovery work and recognizing how much I didn't know about the place I have lived most of my life.
---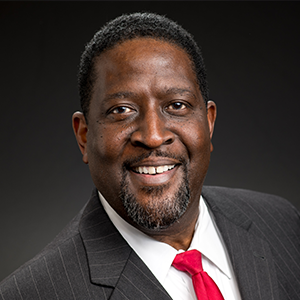 James Holmes ('86)
Distinguished Service Awardee
James Holmes is president of J Holmes Consulting, LLC. He is a former member of the Houston Alumni Association Board of Directors, President Emeritus of the UH Cougars Athletic Alliance, former UH Cougar Football player and member of the 1984 SWC Championship Team. He and his wife of 29 years, Regina Poret Holmes ('87), have two daughters: Amanda and Allison. Amanda has received her M.P.H. from Washington University in St. Louis, and Allison is currently a junior at the University of Missouri.
Q: What would you tell the next generation is the meaning of success?
A: Success is not a singular ideal and should not be measured by society or someone else's standards. It should be based on those things that are important to you. If family is important, make sure you invest in them. If a career is important, invest the appropriate time developing your career. The key is to find the proper balance while making the necessary and appropriate sacrifices. For me, I strive to enjoy what I do in life; both professionally and personally. I help others that are less fortunate and show love and affection to those who are important to me.
---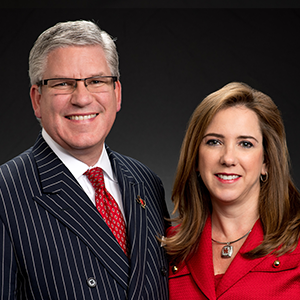 Trey ('92, M.B.A. '02) and Kimberly ('93) Wilkinson
Distinguished Service Awardees
Trey and Kimberly both graduated from the C.T. Bauer College of Business, where they cultivated a passion for helping others at the University of Houston. Both have served on numerous boards and committees to advance the mission of the University of Houston.
Education is the foundation of their careers. Trey received his bachelor's degree with honors in marketing as a student in the UH Honors Program (now Honors College). Kimberly entered the medical field in 2000 and currently is a graduate student at George Washington University. She is studying to receive her Master of Science in Clinical Research Administration. Upon graduation, she plans to administer research trials for pharmaceutical and medical device companies that are seeking FDA approval for its products.
Q: Some people have a word or motto they live by; what is yours?
Kimberly: Believe you can accomplish anything, but never compromise your ethics to be successful. Having strong ethics is the cornerstone to everything in life. When you live by this premise, you never have to worry about the foundation that you have built to get to your goals, because that foundation is solid. When you cut corners ethically, or you choose not to "do the right thing," eventually it catches up to you. Your reputation can be tarnished, and you have to start over. There is an old saying "Your reputation precedes you." I believe this is true in business and in life.
Q: What was the accomplishment that you considered the most significant in your career?
Trey: My most significant accomplishment in my professional career is building an investment company from $10 million in assets under management to over $150 million in assets under management in just six years. We did so by embracing the fiduciary standard of always putting our clients' interests first. If you take care of your clients, the rest takes care of itself.
---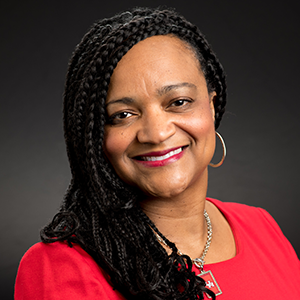 Charlene Johnson ('91)
Outstanding Volunteer Awardee
Charlene Johnson graduated from the University of Houston with a Bachelor of Science degree in Industrial Technology in 1991. She's the President of the University of Houston's Black Alumni Association, and participates in several organizations, which demonstrates her passion for education, growth and service. Johnson volunteers on several community boards, such as the Greater Houston Frontiers, her neighborhood's Civic Club, and the Texas Black Expo, Inc. She is a member of Alpha Kappa Alpha Sorority, Inc., Top Ladies of Distinction-Humble Intercontinental Chapter and the Houston Livestock Show and Rodeo Volunteer Committee. Her philanthropic efforts continue with charities such as, the American Heart Association, March of Dimes, United Negro College Fund, Junior Achievement, the Houston Zoo, and Juvenile Diabetes. She is a proud mother of two children, Nalyah and Jarvis.
Q: What advice did you receive in your past that you still follow?
A: My dad was very good at giving me advice on life. His advice was almost always in the form of a one-liner. He didn't believe in giving up. It seems the best advice came to him when we would be sitting at our kitchen table. One day he said to me, "If you can't find a way — then make a way." That's some of the best advice that I've ever received!
---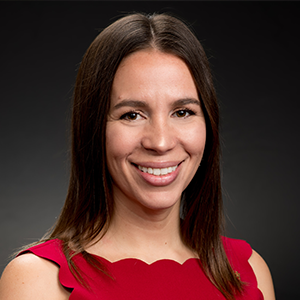 Clara Hough ('02)
Rising Star Awardee
Clara Hough ('02), a leader in the weddings and events industry, is originally from Venezuela. Clara pursued her college career at the University of Houston, moving to the United States at the age of 17. She graduated from the C.T. Bauer College of Business in 2002 and was recognized as an Honorary Alumni by the Conrad N. Hilton College of Hotel and Restaurant Management in 2015.
Clara, alongside her husband, created the Christopher and Clara Hough Annual Scholarship at the Conrad Hilton School of Hotel and Restaurant Management. This scholarship assists out-of-state and international students with college tuition. After Hurricane Harvey, Clara started a Go Fund Me account and raised over $14,000. The funds were distributed amongst event professionals and small business owners who had suffered losses.
Q: In order to be successful in your career, do you need passion?
A: Having a career we are passionate about is 100% under our control. To me, passion is the result of putting all of your energy and love into what you do. Anyone can have a career they are passionate about, but in order to be successful at it, you need to be willing to work hard and make sacrifices.
Saturday,
April 28th, 2018
Westin – Memorial City
6:00 pm Reception
7:30 pm Dinner and Program
The University of Houston has ambitious plans to change the world.
On this night, we recognize Cougar alumni who fueled, built, and transformed the world.
To get your tickets to the 64th Annual Awards Gala,
visit: https://houstonalumni.com/gala/