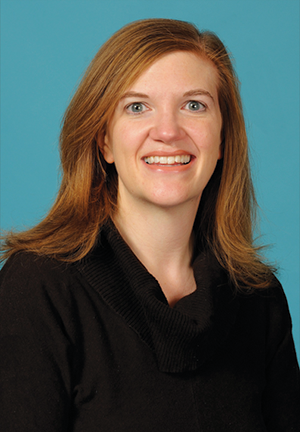 Are the trains running on time? All you need to do is ask Yvonne (Dawson) Carney ('97), a UH alumna who now works as a senior performance analyst at the Washington Metropolitan Area Transit Authority. Consistency is important in a job where you apprise senior leadership on the reliability of D.C.'s public transportation. Consistency also is the mark of a HOUSTON Pacesetter — one who gives annually for five years or more to the University of Houston. Despite living across the country from her alma mater, Carney acknowledges the importance of giving back regularly because of what she deems an exceptional college experience — one that opened her up to all kinds of opportunities, both professionally and personally.
Carney studied in the Honors College at UH, which helped her learn how to think big and make connections between the texts she was studying and real life experiences. "The Honors College at UH taught me to think critically, which in my work today helps me raise important questions, appreciate complexity and communicate," she says. Carney recalls professors serving as mentors to Honors College students, something she wants every college student to experience. She also took advantage of Honors College scholarships and was able to study abroad in both Israel and France during her time at UH. Now, she is a proud supporter of the University of Houston, and she directs the majority of her gifts to the Honors College.
"I encourage alumni to look back on their own experience in college, especially for those of us who worked our way through college. I would ask a potential donor: how can you help a college student to fully engage in the college experience? How can you help a struggling student to complete their degree?"

Yvonne Carney ('97)
She remembers her time at UH fondly, but it wasn't always smooth sailing. Carney worked her way through college with a job at the Daily Cougar. She lived on campus until halfway through her sophomore year before a family emergency changed her course. The pressure from that situation and how it affected her path to getting her degree was palpable. That is one of the reasons she is so serious about providing support for students.
It wasn't long ago that Carney attended President Khator's national speaking engagement in D.C., and she feels that the University has "matured" since she graduated. "The Tier One Research Institution status resonated with me, and President Khator embodied such strong leadership," she reminisces. How does she feel about the University's trajectory? "It makes you feel proud when you see your alma mater getting the respect it deserves."
Annual Giving
The University of Houston offers exciting opportunities to connect donors with their passion. Alumni, parents and friends can cast their vote of confidence with a financial contribution to any area.
Gifts in support of scholarships translate into better quality of life, while keeping UH affordable for thousands of students. Annual gifts provide a competitive advantage in attracting and retaining world class faculty. Program contributions enhance the overall student, faculty, staff and campus experience. No matter the size or area, your contribution moves the University of Houston forward.
Don't just give to the University of Houston, give through it.
No matter the size, your gift will enhance and magnify UH's offerings. Visit uh.edu/giving to make your annual contribution today!