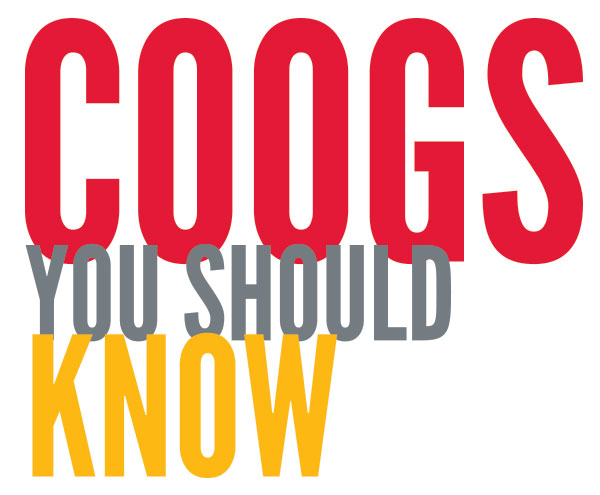 There are so many majors at UH — over 240 undergraduate and graduate degree programs, in fact! The sheer number ensures that a great number of UH grads are out in the world, taking their Cougar pride into a diverse array of exciting occupations. Here are some alumni you may hear about because of the work they are doing in fields as divergent as theater and opera to graphic design and public health.
---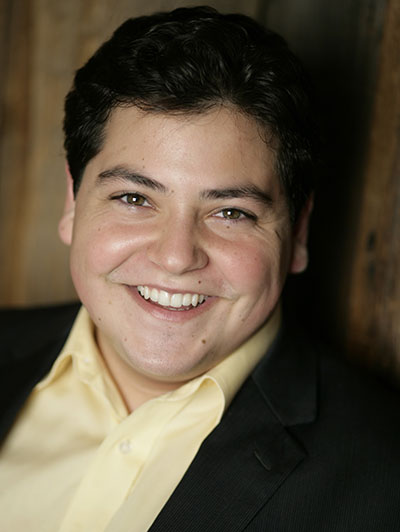 GALEANO SALAS ('11)
Mexican-American tenor Galeano Salas ('11) is currently an ensemble member of the Bavarian State Opera in Munich, Germany. Salas has sung with artists such as Plácido Domingo, Juan Diego Flórez and Charles Castronovo. Most recently winning the Grand Prix and Audience Choice Awards in the prestigious III Éva Marton International Singing Competition in Budapest, Hungary, Salas holds degrees from the University of Houston, Yale University and the Academy of Vocal Arts. To find out more about his journey, visit his website at galeanosalas.com
In what ways did your UH experience shape what you do in your life and career? As a student, I changed my major twice before settling on music and graduating in 2011 with degrees in Music Education and Vocal Performance. I discovered opera at the Moores School of Music and am still singing opera for a living today.
What keeps you inspired? I like to be constantly on the move. My wife and I try to be adventurous by visiting new places, and sometimes we're able to travel because of my career, which is a win-win situation for us. Even though there are various demands to being an opera singer, I make an effort to lead a normal life.
What failures or challenges contributed to your success story?Failure has been a constant in my process as an artist. At some point I had to decide that "no" didn't mean "bad" or that I wouldn't get it. It meant "not yet", and from that point on, I began to benefit from an environment with slow, steady progress over time. I fail every day and the life of a singer tends to be that way. Finding a healthy mindset to deal with adversity and failure is the key. One of my teachers would tell you, "Chi va piano, va sano e lontano," ­— which sort of means: "He who goes slowly, goes well and far."
What's the most courageous thing you've ever done? Moving to a foreign country with no knowledge of the language as newlyweds was pretty challenging. We hoped that my new job offer in Munich would work out. I'm beginning my third year now, so I guess things have been working out for us so far. We love Germany!
If you could only choose one song to play every time you walked into a room for the rest of your life, what would it be?"Best of You" by the Foo Fighters.
---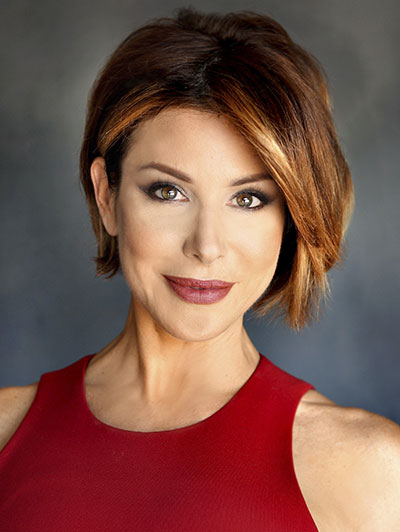 DOMINIQUE SACHSE ('90)
Dominique Sachse ('90) has worked as an evening news anchor at Houston's KPRC Channel 2 for 25 years. Sachse is a wife, mother of one, bonus mom to five, and has described herself as "career-oriented, charity-minded and one who wants to make a difference." Sachse has been a broadcast journalist since 1993. She began as a Metro Traffic reporter for a variety of radio stations in 1990. Her work over the years has been recognized with two Emmy awards, several AWRT awards for on-air personality, the prestigious Edward R. Murrow award for her turn as show host for "Jennifer's Story," as well as accolades from the Houston Press Club and the Texas Associated Press. To learn more about this vibrant alumna, visit YouTube.com/DominiqueSachseTV
In what ways did your UH experience shape what you do in your life and career?I believe my UH experience was critical in launching my career for several reasons.  The access I had to real-life TV production through the Channel 8 studios was unparalleled. As a student, I was able to graduate with a demo tape of my work in hand.  None of my contemporaries from other universities had anything close to that!  Also, I befriended many of my professors who saw my commitment and determination, one of whom, professor Bob Musburger, helped me land my first job at Metro Traffic Control just a short time after graduation in May of 1990.
What keeps you inspired? My passion for my work keeps me inspired.  I believe in having a sense of purpose and joy from work produced, which feeds the deepest part of me.  I am always looking for ways to innovate in my chosen field, through stories I get to tell, or the content and message I put forth on my YouTube channel.  Making a difference and touching people in meaningful ways is the greatest contribution there is.
What failures or challenges contributed to your success story? By nature, I'm quite impatient, so I've learned to respect the process.  In hindsight, it's through those early-on struggles, those moments of stretching and growing, not necessarily at my pace but His, that I developed character and wisdom.  There were many sleepless nights on overnight radio shifts, working two part-time jobs on the side just to get rent paid, not much of a social life and not sure where it would all lead.  I stayed the course, focused on growing and improving, sought guidance from management and those whose skills I admired.  Ironically, those are my fondest memories.
What's the most courageous thing you've ever done? When I started in news in 1994 here in Houston, I was very much an anomaly, the youngest person in the newsroom with the least amount of experience.  I was given an opportunity to sink or swim in a major market, which was unheard of at the time.  I was hired because I was different, and I could have chosen to model myself after everyone else, to look, sound and perform the same.  I had to remember that I was there because I was unique to the market, and the only way to truly cut my path was to honor that.  It wasn't easy, and it certainly wasn't free of mistakes or criticism.  I had the support of my management and took many risks as a fast-talking, expressive young woman, with a sense of humor, who was trying to cut her chops as a journalist.
If you could only choose one song to play every time you walked into a room for the rest of your life, what would it be? That's a no-brainer: Frank Sinatra's, "My Way!"
---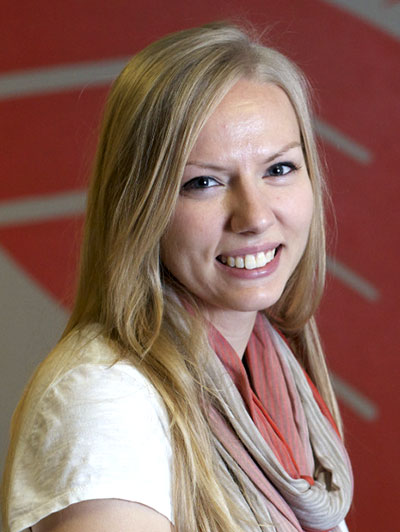 MICHELLE COFFEY ('05)
Michelle Coffey ('05) is a Houston-based designer and activist who believes in working toward a better human experience. A University of Houston alumna and 10-year veteran of the agency world, she has crafted engaging brand presence and authentic communications for brands large and small.
Her shift toward working for social change began with serving on the inaugural board of A 2nd Cup, a Houston non-profit coffee shop dedicated to ending human trafficking, and she continues to evolve the brand's retail experience. She is also the co-founder of Citizen D, the Design Advocacy arm of AIGA Houston, which seeks to empower designers to take active roles in civic and social change.
She now divides her time as raiser of kind, generous little man cubs and creator at StickWit Studios—designing, building and activating artifacts, experiences and communities.
In what ways did your UH experience shape what you do in your life and career? UH gave me a true "you get out what you put in" experience. I brought my whole self in the five years I was there, and the faculty and curriculum met me every step of the way. The Honors College helped me think deeper about the human experience. The School of Art taught me theory, practice and responsibility. I really couldn't ask for more.
What keeps you inspired? People who refuse to accept the world as it is and find a way to build the world they want. I love the people I've met at Sketch City and Station who refuse to accept that there are "haves" and "have nots." I love the people I've met in Project Curate and Black Lives Matter Houston who refuse to accept institutionalized racism. I love designers and other creatives who refuse to be labeled and are constantly pursuing new landscapes to shape.
What failures or challenges contributed to your success story? Helping my dear friend get a non-profit coffee shop off the ground (A 2nd Cup—dedicated to ending human trafficking). We kind of thought we were invincible with a good idea, a good cause and a brand identity that would be taken seriously. We were anything but invincible. She bore the brunt of the challenges, but it was (and continues to be) quite a ride.
What's the most courageous thing you've ever done? Becoming a parent. I was always a little fearful of it, and now I know it was for good reason! My three-and-a-half year-old is smart, funny, strong-willed, and always pushing me to my limits. It takes courage to "say yes" to giving of yourself one more time, every time. It's relentless. He constantly drives me to be a better human being. We're adding another next month, so I hope there's enough courage to go around!
If you could only choose one song to play every time you walked into a room for the rest of your life, what would it be? "The Girl from Ipanema." I'm obsessed with Mid Century design, and Bossa Nova always transports me to that time period.
---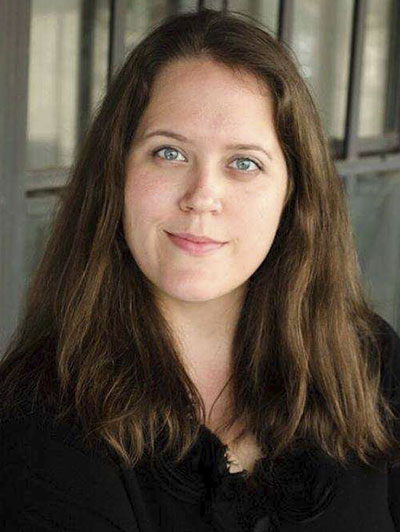 ELIZABETH ANN MICHAELA KEEL ('09, M.A.'18)
Elizabeth Ann Michaela Keel ('09, M.A.'18) is a native Houstonian playwright, director, actress, producer and novelist. Her plays have been produced by Squeaky Bicycle, Mildred's Umbrella, METdance, Landing Theatre Company, Cone Man Running and 14 Pews, among others. She has published two novels: Running Into Trouble and Life After Myth. Elizabeth currently works as a teaching artist for Stages Repertory Theatre and Writers in the Schools, and previously taught for the Alley Theatre's education department for seven years. Her UH thesis work focused on the encouragement of meaningful science fiction onstage. Upcoming projects can be found at elizabethamkeel.com
In what ways did your UH experience shape what you do in your life and career? UH helped turn me into the theatrical Swiss Army knife I am today. It brought waves of opportunity into my life. It provided the chance to workshop with massively influential, glow-in-the-dark brilliant playwrights like Theresa Rebeck, Edward Albee, Lanford Wilson and Chana Porter. I am also grateful for the vast community of fellow students UH provides, many of whom I have ultimately gone on to befriend, cast, hire and collaborate with in the professional field.
What keeps you inspired?Houston's hardworking theatre companies, and the ways that they constantly innovate and challenge themselves to grow. Every new season is even better than the last. It is why I've never had any interest in moving away from Houston. There're too many incredible productions going on.
What failure or challenges contributed to your success story in the long-run? Frankly… being a Hermione-type workaholic.
If you could only choose one song to play every time you walked into a room for the rest of your life, what would it be? It's a deep cut, but probably Felix Mendelssohn's "The Hebrides Overture." I heard it once unexpectedly late at night on KUHF 88.7 and I've never once gotten tired of it.
---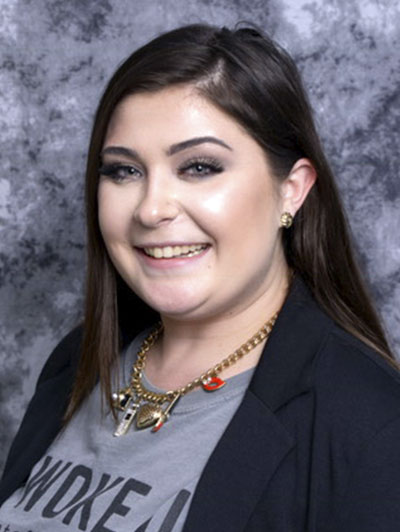 CAROLINE FERGUSON ('18)
Caroline Ferguson ('18) graduated from the University of Houston in the C.T. Bauer College of Business and is now the proud founder of Grateful & Company. Caroline is on a mission to end suicide at the University of Houston.  After losing her father to suicide 13 years ago, and a friend to suicide even more recently, Caroline learned that physical gratitude is proven to lower levels of depression and to lead to happier and healthier lives.  Grateful & Company encourages people to practice gratitude, to receive it and to share it. Grateful & Company wishes to be a source for people to come and stock up on "vessels of gratitude," with the intention of physically acting on gratitude. Read more at gratefulandcompany.com
In what ways did your UH experience shape what you do in your life and career? For me, the University of Houston was a game changer. While a student at the University, I was lucky enough to be a part of the Class of 2018 within the Wolff Center for Entrepreneurship. Thanks to the community's commitment to mentoring students through the program, the endless support from the director Dave Cook and the team, and the friendships created within my class — and wake up calls when necessary —the program changed my life. I lost one of my friends and fellow classmates within the Class of 2017 to suicide while in the program. I launched Grateful & Company, my passion project, its mission being to raise awareness for the desperate need to end suicide once and for all. The suicide rate for college students is shocking: 1 in 12 college students in America have a plan to commit suicide.  At UH that's roughly 3,500 students.  Our bottom line is to end suicide on our campus through suicide prevention programs, more counselors and an overall increased awareness of the problem.
What keeps you inspired? The reality that every 40 seconds someone commits suicide.  That's unacceptable.  I have an intense drive that I've had since I was little, if I think back far enough — to change the world.  We all deserve to know we're loved and worthy of this life. Grateful & Company is an attempt at solving that much larger problem: people don't know they're loved.  That lack of understanding fuels me — I want people to KNOW they're loved, seen and worthy.
What failures contributed to your success story? The biggest one in my opinion was not believing I was capable of starting this really touchy conversation. I was caught up in the magnitude of the stigma associated with mental health issues and suicide.  Having lost my dad to suicide 13 years ago — even then suicide was a very touchy subject.  The only thing that's changed is that it's so much more common. If I had trusted myself and my network earlier, I would've tried sooner.
What's the most courageous thing you've ever done? I shared my dream with people. I told everyone around me what I wanted to do — that I wanted to end suicide. That's terrifying. Because people begin to count on you, a level of accountability builds and people begin to expect you to do something amazing. That's scary to me. At the end of the day I'm not doing this for any other reason than that NO one deserves to feel unloved. No little boy or girl should wake up to the altered reality I did over a decade ago.
If you could only choose one song to play every time you walked into a room for the rest of your life, what would it be?There's this singer/songwriter that I heard play at a house party with my mother-in-law a few months ago, named Drew Kennedy.  He's got a song called, "Cream and Sugar." It's the best.  It's quiet and sweet.  I'm constantly humming it. Go check it out!